Save this recipe for later?
If you want to save this recipe for later, you can print it, bookmark this page or save it to Pinterest.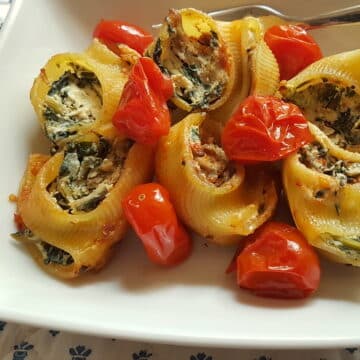 Baked Lumaconi Pasta Shells with Chicory and Porcini
This delicious Italian baked lumaconi pasta shells recipe is perfect for meatless Mondays, vegetarians and religious holidays when meat isn't eaten.
Keyword:
baked pasta recipe, chicory, lumaconi, pasta shells, porcini, ricotta, vegetarian
Ingredients
24

lumaconi pasta shells

or conchiglioni (about 300g) I used lumaconi made by pasta Garofalo

250

g

fresh ricotta

100

ml

heavy cream

(about 1/2 cup)

1

egg

30

g

Parmesan or grana

grated

400

g

Catalonian chicory

or spinach

30

g

dried porcini mushrooms

3

garlic cloves

peeled

1/2

glass

white wine

300-400

g

cherry tomatoes

4-5

tbsp

extra virgin olive oil

salt

for pasta and to taste

black pepper

to taste

1

pinch

nutmeg

grated

1

knob

butter
Instructions
First steps
Soak the dried porcini in warm water for about 30 minutes. Drain them and save the water.

Wash the chicory or spinach well, drain and if using Catalonian chicory cut off the harder lower parts of the stalks and remove any damaged leaves. Boil the greens in a pan with a little water for about 10 minutes. When ready drain the greens, let them cool then chop into smaller pieces.
Make the tomato sauce
Wash the cherry tomatoes and place them on a baking tin. Sprinkle with olive oil and roast in a preheated oven at 180° until they start to soften. (This step can be skipped and the tomatoes can be cut into quarters and fried immediately to save time)

Heat some olive oil in a frying pan or skillet. Add 2 peeled garlic cloves and fry until they start to brown. Then add the roasted tomatoes to the pan and cook on a moderate heat for about 10 minutes. Add some of the porcini soaking water and continue cooking until the tomatoes are very soft. This sauce is semi-dry not very liquidy. If you prefer you can also add a little tomato passata to make 'more' sauce.
Cook the vegetables
Cut the drained porcini into smaller pieces. Melt a knob of butter in a small frying pan with 1 tbsp of olive oil and saute 1 garlic clove until it starts to brown. Add the mushrooms and cook for about 5 minutes. Then add the white wine and continue cooking until the alcohol evaporates. Add the spinach or chicory to the mushrooms. Mix everything together well and continue cooking for another 5 minutes. Season with salt and pepper. Turn off the heat and set aside.
Cook the pasta
Put a pot of water on to boil for the pasta. Add salt once it starts to boil and bring to the boil again. Boil the giant lumaconi pasta shells until they are half cooked (about 8 minutes), drain them and run cold water over them to stop them cooking further. Drain again and spread them out on a dry cloth.
Make the filling
Put the ricotta in a bowl, with 1 egg, a generous handful of grana or parmesan and the heavy cream Mix together well. Add salt and pepper to taste and a pinch of nutmeg. Add the mushroom and chicory to the ricotta mixture and mix together well again.
Finish the dish
Spread a little tomato sauce in the bottom of an oven dish. Stuff the lumaconi one by one using a teaspoon and place them in the oven dish, with the filling facing upwards.

Distribute the rest of the tomato sauce over the pasta, sprinkle with plenty of grated Parmesan or grana and bake at 190 ° C. for about 15-20 minutes, covering the dish with aluminum foil for the first 10 minutes.

Serve hot with more grated cheese if required.
Recipe Notes
You can use conchiglioni (giant pasta shells) instead of lumaconi.
You can use spinach or another leaf vegetable instead of Catalonian chicory.
To change things up a bit, why not use a bechamel (white) sauce instead of tomato sauce? Just as delicious!
If you're looking for other vegetarian baked pasta recipes check out these..
Pin for Later