Schüttelbrot tagliatelle with chanterelle mushrooms and speck.
This delicious creamy tagliatelle with chanterelle mushrooms and speck turned out to be the perfect way to cook some fresh chanterelles and Schüttelbrot tagliatelle I was given by friends. (go straight to the recipe)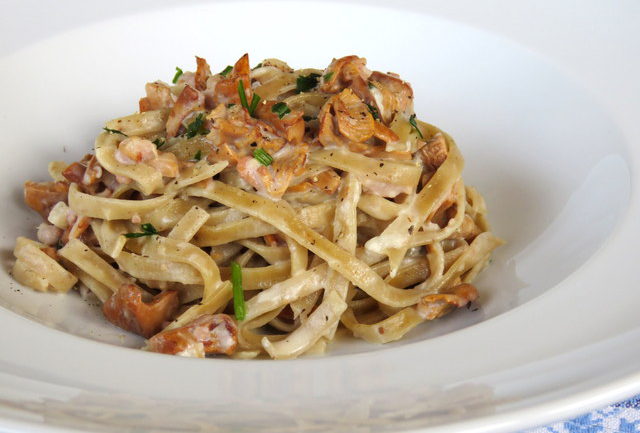 Chanterelle mushroom picking in Italy.
Here in Italy, mushroom picking is a popular pastime. In late summer, early autumn and spring, when the weather is right and the ground still soft from recent rains, the Italians take to the woodlands with baskets on their arms to search for mushrooms. There are quite a few species that they search for. Porcini are the treasure of the hunt but they are also among the most difficult to find.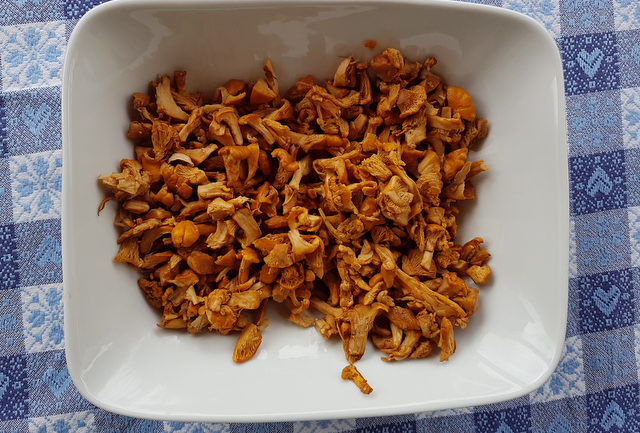 One of the easiest to find, and often in abundance, are chanterelle mushrooms (finferli in Italian). I remember once finding a carpet of chanterelles with my husband. We took home baskets full and dried them. They were on the menu a casa nostra for quite a while!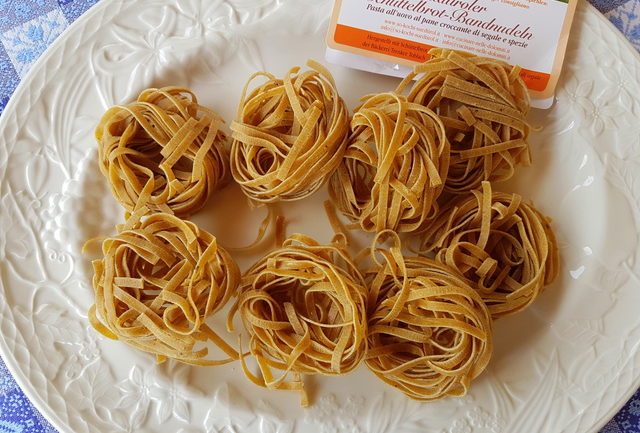 This year we haven't yet had the opportunity to go mushroom hunting. However, the season has started and we were lucky enough to be given a bag of freshly picked chanterelles last week. I didn't want to dry them. Fresh is nearly always best! So, I searched for a pasta recipe with a particular pasta in mind.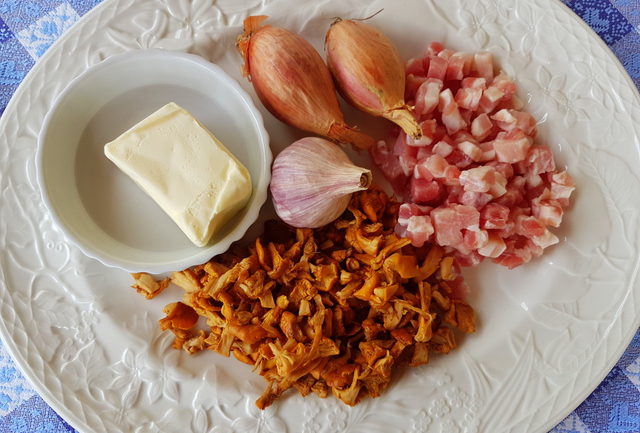 What is Schüttelbrot tagliatelle?
I had also recently been given a very unusual type of tagliatelle. Schüttelbrot tagliatelle from the South Tyrol is made by finely grinding a typical Tyrol crisp bread called Schüttelbrot and mixing it with eggs and durum wheat semolina flour (semola in Italian) to make pasta dough. Schüttelbrot is made from rye flour, fennel, caraway and fenugreek. So, as you can imagine it has a very particular taste!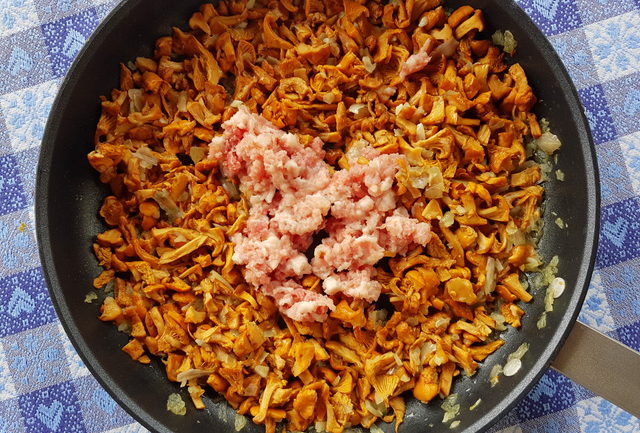 I used the chanterelle mushrooms and the tagliatelle in this recipe typical of Trentino-Alto Adige, the Italian region where the South Tyrol is located.
What is speck?
Speck is the most well-known food produced in the South Tyrol. It is a distinctly flavored, smoked, cured ham which is more robust than the delicate prosciutto made in San Daniele and Parma. It's a kind of cross between bacon and ham which is often used in cooking or eaten raw like prosciutto. However, this recipe can be made with pancetta too.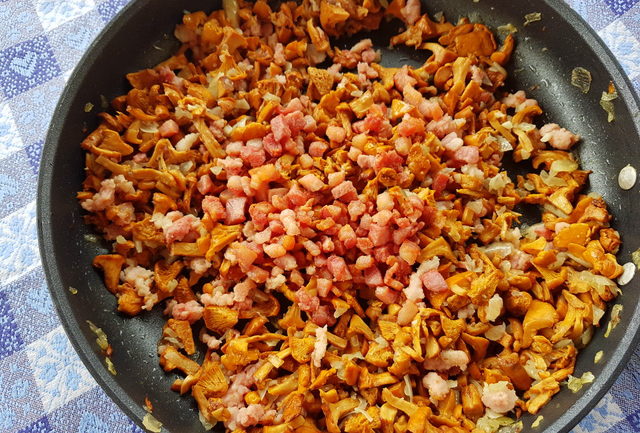 Make this recipe dairy free.
Unlike in the Southern Italian regions, recipes from Trentino-Alto Adige often include butter and cream. This is, of course, due to the presence of many dairy farms in the region, which has long been known for its dairy products. So, this tagliatelle with chanterelle mushrooms and speck recipe also includes butter and cream. However, if you want to make it dairy free you can use chicken stock instead of the cream and oil instead of butter.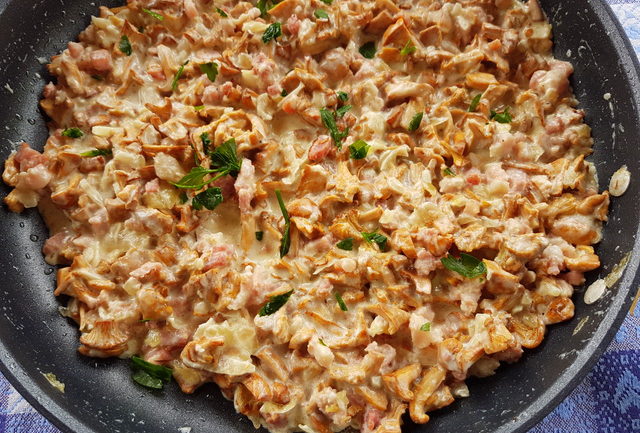 What other pasta can you use?
These particular tagliatelle were divine with the chanterelle and speck sauce. If you get the chance to try them, I would highly recommend it! (I'm still dreaming about this dish, it was so good!). Otherwise, I think, the nearest you could get to reproducing the same flavour would be with a whole wheat pasta. Or, you could make your own pasta using rye flour. Alternatively, normal tagliatelle would be delicious too!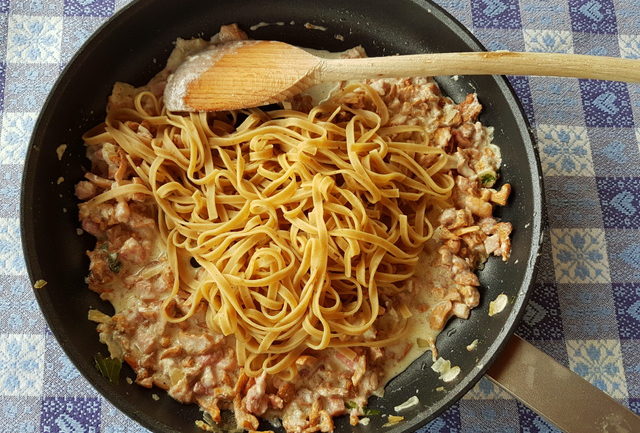 What other mushrooms can you use?
Finally the mushrooms! We were lucky to be given fresh chanterelle mushrooms. However if you can't find fresh ones, you can also use dried ones or a mixture of dried mushrooms. I get that being able to follow this recipe for Schüttelbrot tagliatelle with chanterelles and speck exactly is difficult for most. But, you can adapt this pasta sauce to what you have available and eat it with other types of pasta. I'm sure you'll love it whichever way you make it!
If you do try making this recipe, I'd love to hear how it turns out. Please, write a comment here on the blog or post a comment on the Pasta Project Facebook page.
Your feedback means a lot to me!
Buon Appetito!
(see the recipe on the next page. Just scroll down and click 2)