Save this recipe for later?
If you want to save this creamy linguine pasta al limone recipe for later, you can print it, bookmark this page or save it to Pinterest.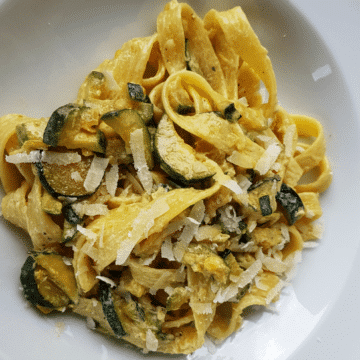 Fettuccine rigate with saffron and zucchini
This delicious pasta with saffron and zucchini recipe is easy to prepare and light. It doesn't take much time and is made with just a few ingredients. However, it looks and tastes so beautiful, you'll want to make it time and again.
Cuisine:
Abruzzo, Italian
Keyword:
fettuccine, Italian recipe, saffron, vegetarian, zucchini
Ingredients
400

g

fettucine rigate

(14oz) or other pasta of your choice

3-4

zucchini

long and thin

1

spring or white onion

50

ml

vegetable or chicken stock

(1.5-2 floz)

1-2

tbsp

extra virgin olive oil

50

g

grated parmesan

(2oz)

100

ml

cooking cream

(3.5 fl oz)

1/2

tsp

saffron threads

or 1 sachet of saffron

salt

for pasta and to taste

ground black pepper

to taste
Instructions
2 hours before cooking, steep the saffron threads (if you are using threads) in 2 -3 tablespoons of hot water.

Wash the zucchini, discard the ends and slice them to a thickness of about 4 millimeters and then cut these zucchini slices into juliennes

Peel and chop the onion very finely.

Put a pan of water onto boil for the pasta. Add salt once it starts to boil.

Heat the oil in a frying pan. Add the onion and cook until it starts to soften. Then add the zucchini and cook for another couple of minutes.

Add half the broth and continue cooking for a couple of minutes.

Add a pinch of salt, small ground pepper and cook for 2-3 minutes on a higher flame, stirring often.

Stir the saffron into the remaining broth, then add it to the zucchini. Stir and cook for a further 2-3 minutes.

Pour in the cooking cream, mix and continue cooking for 5 minutes on medium heat, covered until the zucchini are cooked al dente. Add some grated parmesan. Mix well and turn off the heat until pasta is cooked,

Cook the pasta al dente in the boiling salted water according to the instructions on the packet.

Save some of the pasta cooking water and drain the pasta.

Reheat the sauce, if necessary.

Add the pasta to the sauce, mix everything together well and cook for a couple of minutes on a low heat. You can add some of the pasta cooking water if you think the sauce is too dry.

Serve immediately with a sprinkling of grated parmesan and more ground pepper to taste.
Recipe Notes
this recipe can be made with all kinds of pasta, either fresh or dried, smooth or ridged.
Pin for Later