Save this recipe for later?
If you want to save this recipe for later, you can print it, bookmark this page or save it to Pinterest.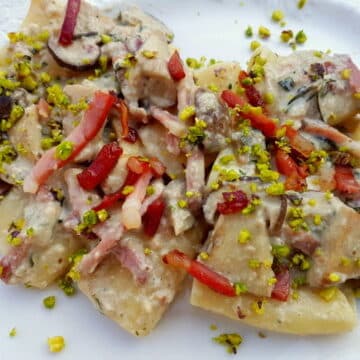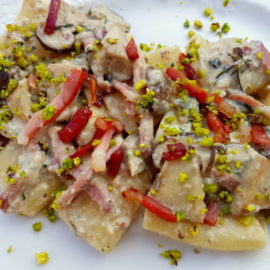 Paccheri with porcini, speck and pistachio
This divine paccheri with porcini, speck and pistachio recipe tastes so good freshly made or oven baked, it's sure to be a winner with family and friends.
Ingredients
300

g

paccheri

200

g

fresh porcini mushrooms

(you can also use frozen or dried porcini)

100

g

speck

cut into small pieces

50

ml

milk

50

g

parmesan or pecorino cheese

grated

1

handful

fresh parsley

chopped

2-3

sage leaves

chopped

1

sprig

rosemary

chopped

1

garlic clove

peeled

3

tbsp

extra virgin olive oil

50

g

pistachios

shelled, unsalted, untoasted

salt

for pasta and to taste

black pepper

to taste
Instructions
If you are using fresh porcini, remove any soil and roots and cut roughly. Dried porcini will need to be soaked in warm water for at least 30 minutes before cooking and then drained. (keep some of the water aside to add to the sauce if required)

Put the shelled pistachios into a bowl of boiling water for 3 minutes , drain them and wipe them with a cloth to remove some of the skin covering them. Put the pistachios in a blender or food processor and pulse until they become granular. Set aside.

Put a pot of water on to boil for the pasta. Add salt when it starts to boil and bring to the boil again.

In the meantime, heat the olive oil in a frying pan or skillet and add the whole peeled garlic clove. Let it start to brown and then add the mushrooms with chopped parsley, sage leaves and rosemary. Let everything cook for 2-3 minutes on a moderate heat.

Cut the speck into small pieces and add 2/3 of it to the mushrooms. Cook for another 2 minutes, remove the garlic and then add the milk and grated Parmesan cheese, stir until the cheese melts. Turn off the heat and remove half of the sauce and puree it in a food blender/processor with a little more milk. Return the pureed sauce to the pan and mix well with the unpureed part.

Cook the rest of the speck in a separate pan with a teaspoon of olive oil until it becomes crispy. Turn off the heat and leave it aside.

Cook the pasta al dente according to the instructions on the packet, save some of the cooking water and drain.

Reheat the sauce with some of the pasta cooking water or water from the soaked porcini mushrooms if you are using dried mushrooms. Stir until it becomes creamy (because of the cheese the sauce may have solidified slightly if allowed to cool, but adding more liquid will make it creamy again)

Add the pasta to the pan with the sauce and mix everything together carefully until the paccheri are coated in sauce. If the sauce still seems dry you can add a little more of the pasta cooking water.

Serve immediately sprinkled with the crispy speck, ground black pepper and the ground pistachios. Provide extra grated cheese if required.
Notes
I oven-baked the leftovers of this dish in a preheated oven at 180° and they were delicious. So you could prepare in advance and then oven-bake until the top is crispy just before serving sprinkled with a little more grated cheese. In this case, only sprinkle with pistachios after the dish has been baked.