Save this recipe for later?
If you want to save this recipe for later, you can print it, bookmark this page or save it to Pinterest.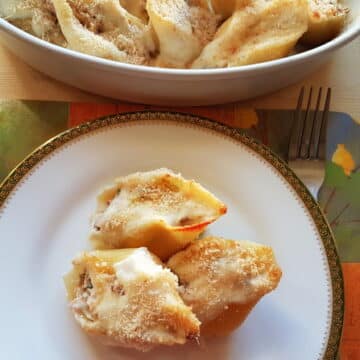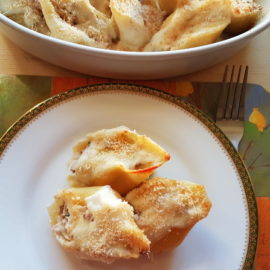 Conchiglioni pasta shells with tuna and ricotta.
These delicious filled pasta shells are perfect for serving at parties or when you have a lot of guests.
Ingredients
250

g

conchiglioni pasta shells

(about 16)

200

g

fresh ricotta

160

g

canned tuna

(drained)

2

sage leaves

2

tbsp

salted capers

(rinsed)

60

g

Taggiasca olives

(or other small olives)

30

g

breadcrumbs

60

g

Parmesan cheese

grated

1

tsp

lemon zest

(optional)
For the bechamel (white) sauce (you can also use ready-made)
50

g

butter

50

g

all purpose flour

500

ml

fresh whole milk

1

pinch

nutmeg

grated
Instructions
Put a large pot of water on to boil for the pasta. Add salt once it starts to boil and bring to the boil again.

Chop the olives, capers and sage leaves into small pieces with a knife or a blender.

Mash the drained tuna and ricotta together and then add, the caper, olive and sage mixture, mix everything together well. Season with salt and pepper as required. I also added a little grated lemon zest.

Cook the pasta until just al dente according to the instructions on the packet. It's important that the shells are still quite firm. After draining the pasta shells, separate them so they won't stick together.
Make the bechamel
Melt the butter in a saucepan, add the flour a little at a time, whilst stirring continuously, until you have a smooth paste. Add the milk a little at a time, again continuously stirring, until the sauce starts to thicken (you may not need all the milk). If your béchamel seems lumpy you can use a hand blender to make it smoother. I like to add a pinch of grated nutmeg to the béchamel.
Finish the dish.
Fill each pasta shell with the tuna and ricotta filling and place side by side in a buttered oven dish.

Add a tablespoon of béchamel to each shell and then sprinkle them all with a mixture of breadcrumbs and grated Parmesan.

Bake for 15-20 minutes in a preheated oven at 180 degrees until the top starts to turn golden and crispy. You can also use the grill for the last 5 minutes.

Serve while still warm.
Notes
This recipe can be made with lumaconi (snail shell pasta) or cannelloni. However, cannelloni are not good as finger food.
If you aren't serving these pasta shells as finger food, you can be more generous with the bechamel sauce.
Cooking times include precooking the pasta, making the bechamel and baking the finished dish.
Pin for Later