Tuscan Minestrone with Orzo (Risoni) Pasta.
Tuscan minestrone with orzo pasta is one of the many delicious Italian minestrone recipes served in Italy at this time of year. It has fresh seasonal veggies and greens, beans and pasta. A healthy and nutritious authentic Italian recipe that will keep you warm and help your body combat seasonal ailments!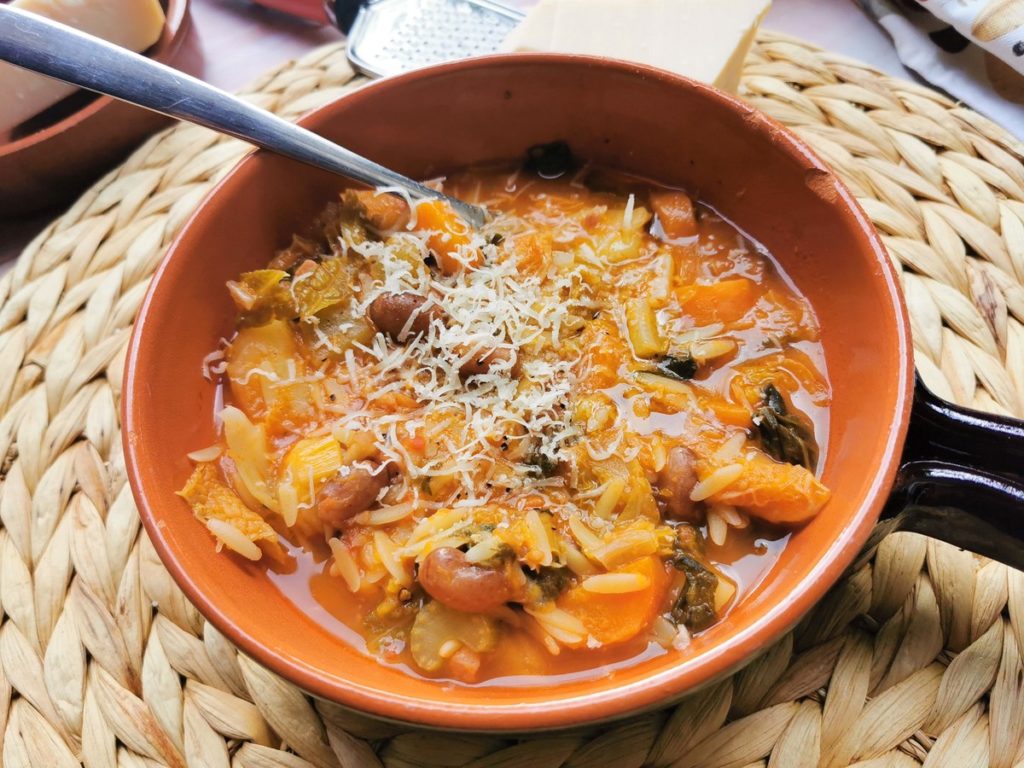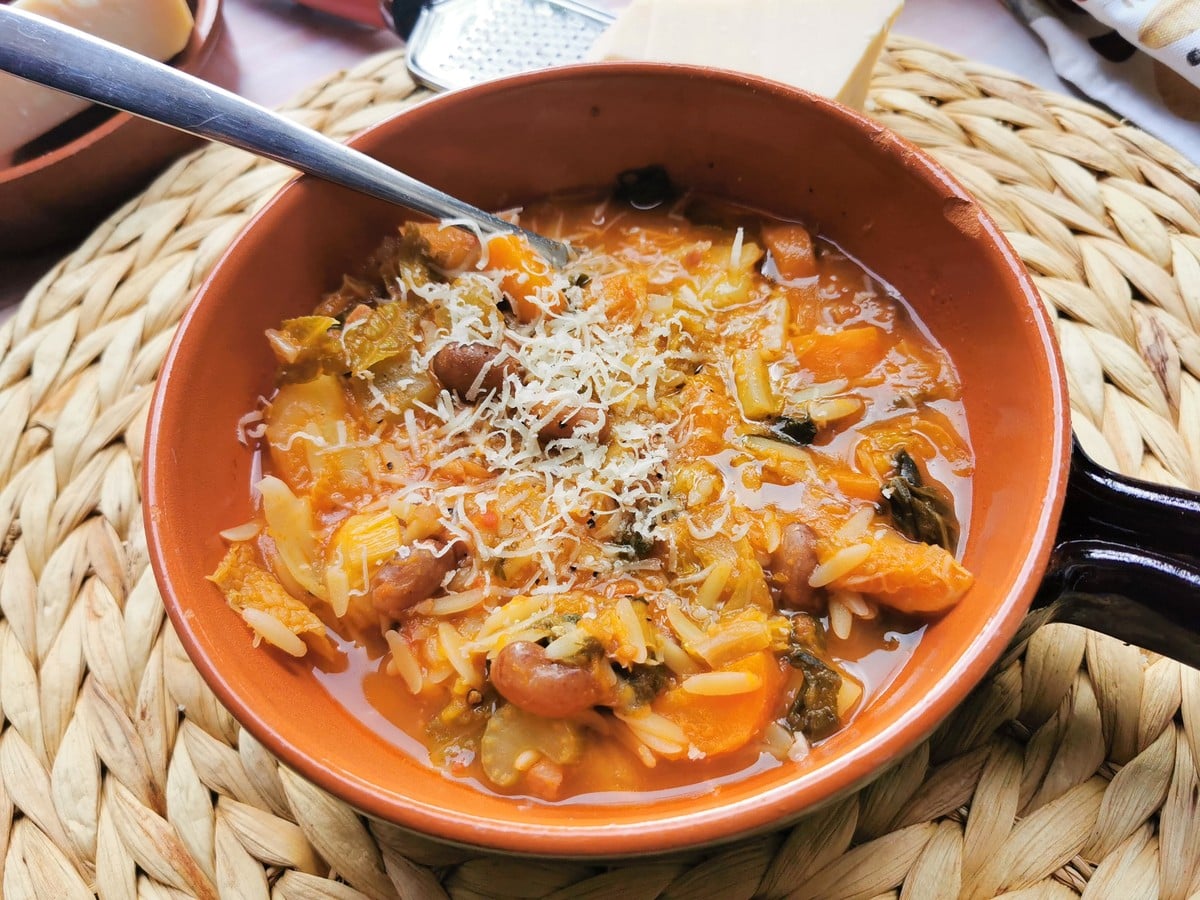 Minestrone alla Toscana.
Now that the autumn is here and the days are getting colder and shorter, soups are making a more frequent appearance on our table. What about yours? Of course, there are many Italian soup recipes but probably the most well-known is minestrone. However, here in Italy, minestrone isn't one recipe. Italians make it in different ways depending on where they live and what's in season locally. Each region has its own type or types of minestrone.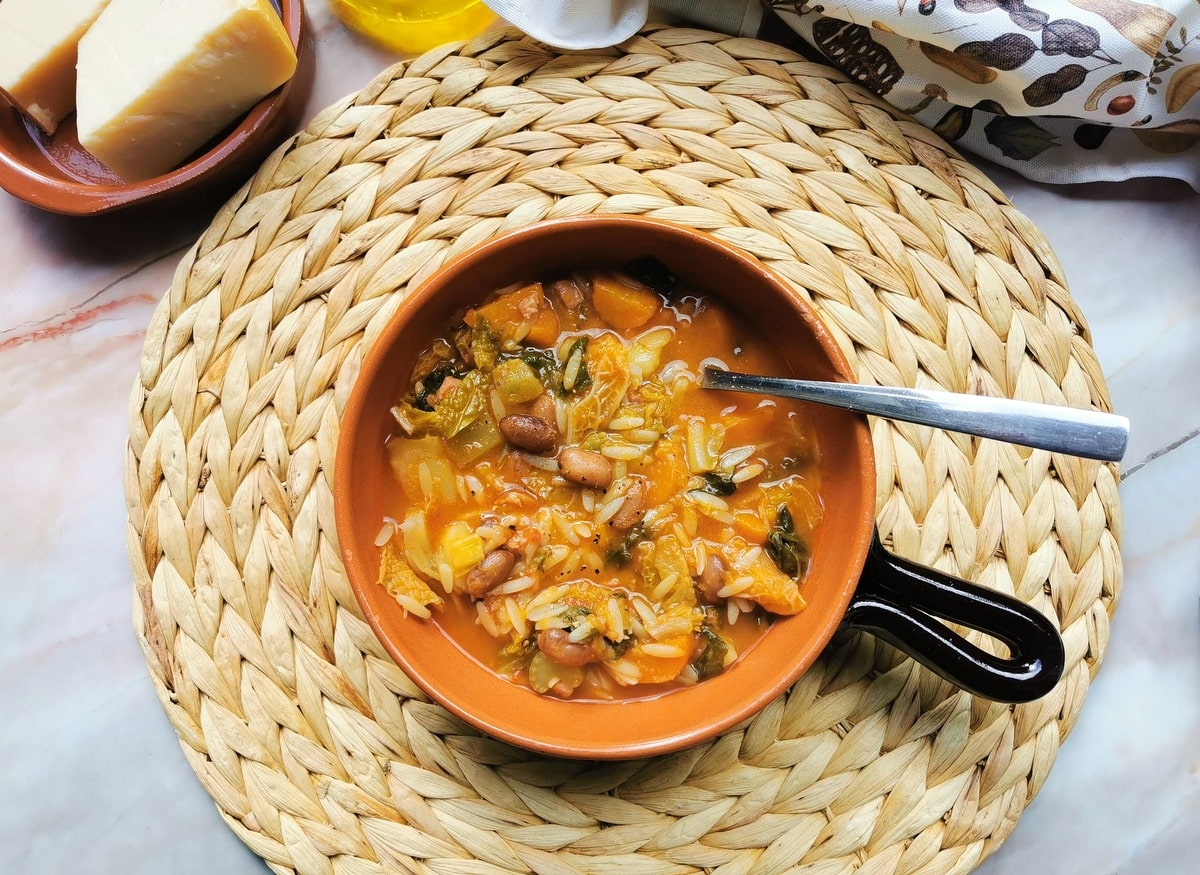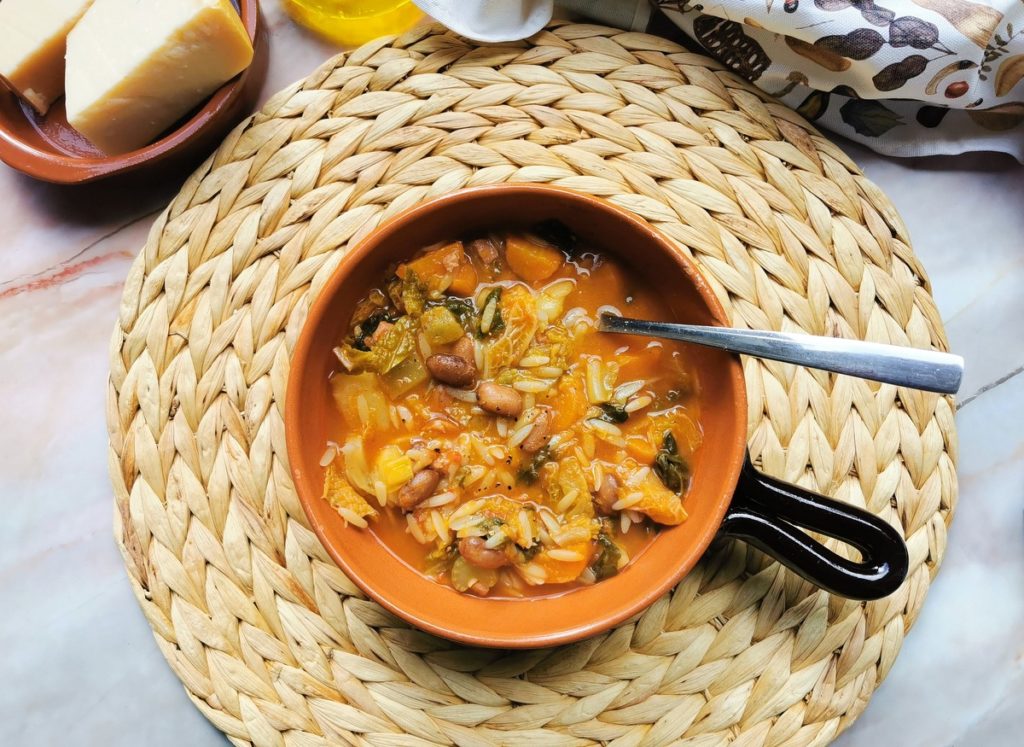 What exactly is 'minestrone'?
The origins of minestrone are very old. It seems that the Ancient Romans already prepared a rudimentary version based on onions, garlic, carrots, asparagus, lentils, mushrooms and whatever they could find at the time, by boiling all the ingredients in water. Over the centuries, other ingredients have been added; for example potatoes and tomatoes. These only arrived in Europe after the discovery of the Americas in the 15th century.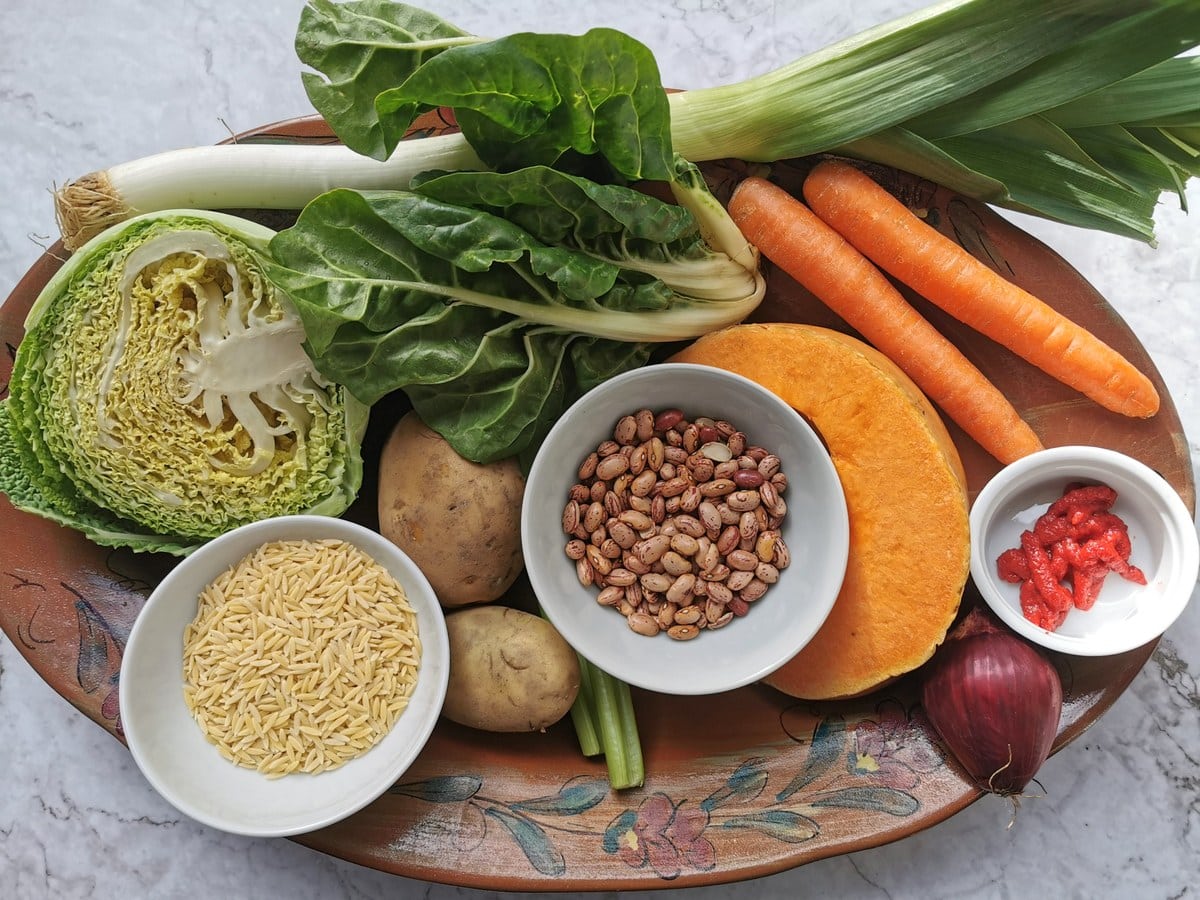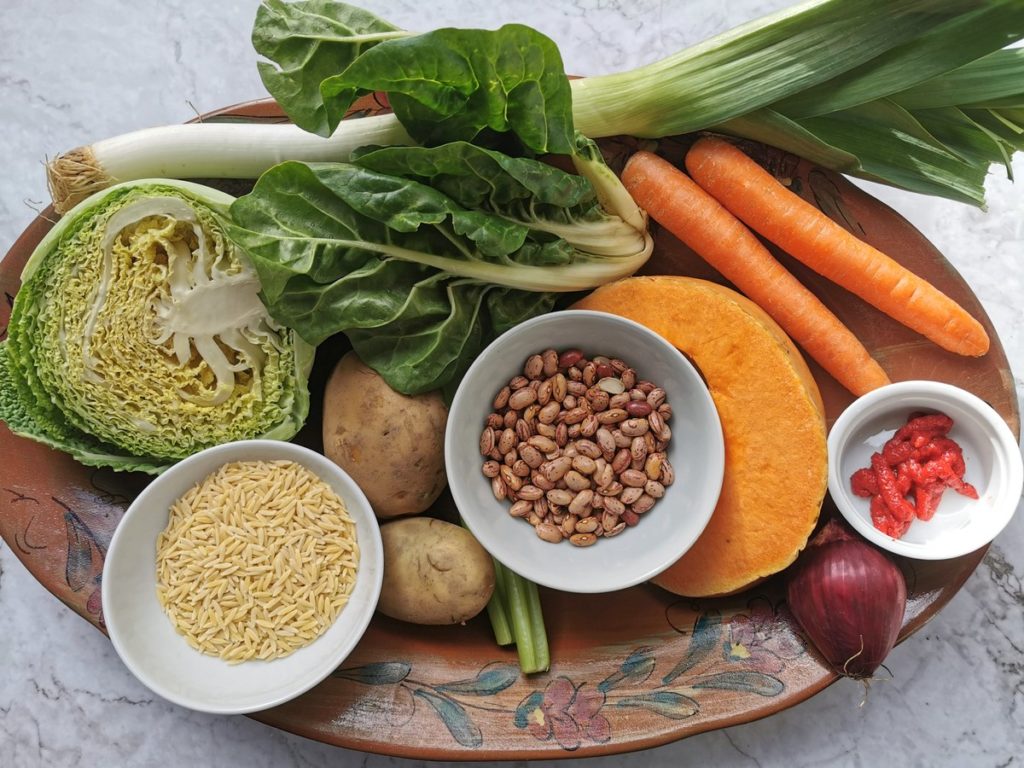 As I mentioned above, there are different versions of minestrone throughout Italy. But, in general, it's a seasonal vegetable soup which usually includes some thickening plant based ingredients such as squash, potatoes or legumes. It also has a variety of veggies cut into pieces and rice, pasta or grains (sometimes all 3!).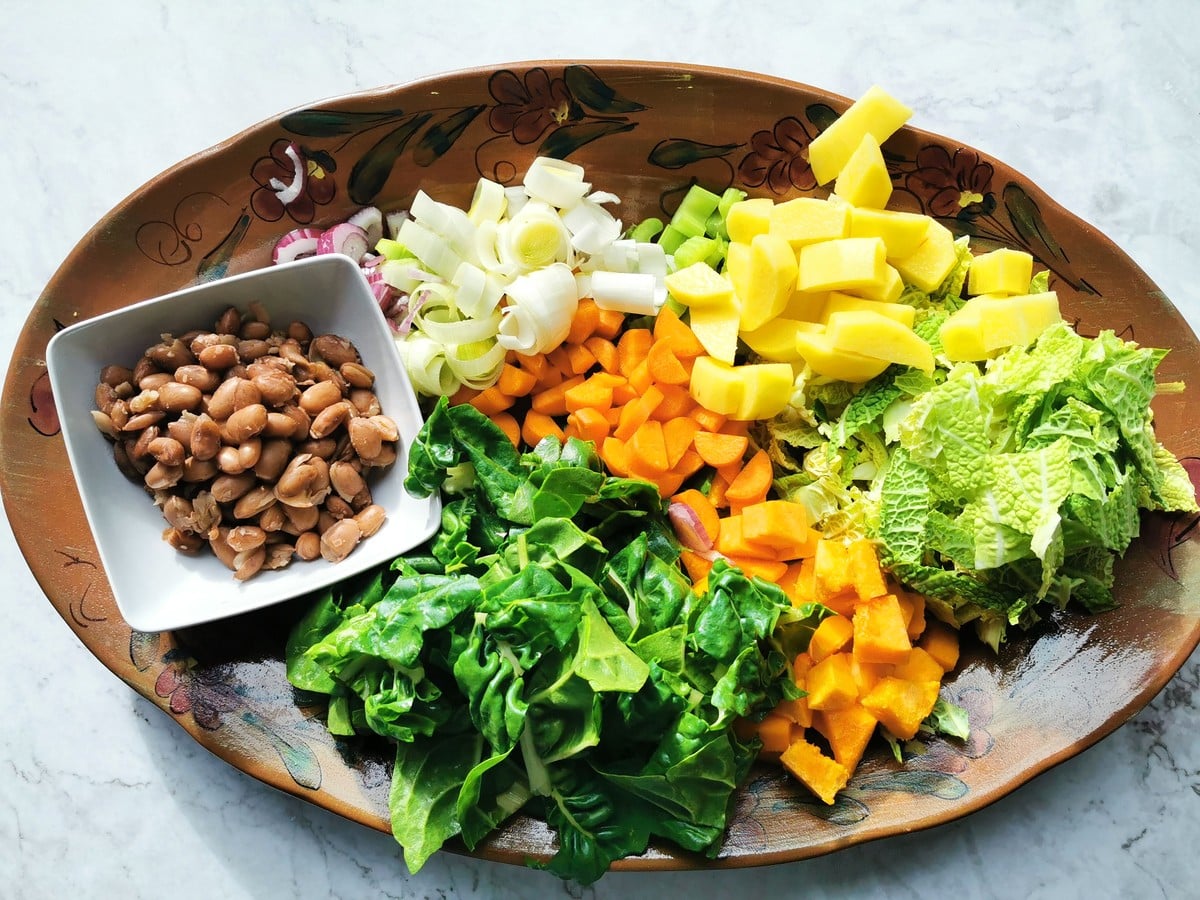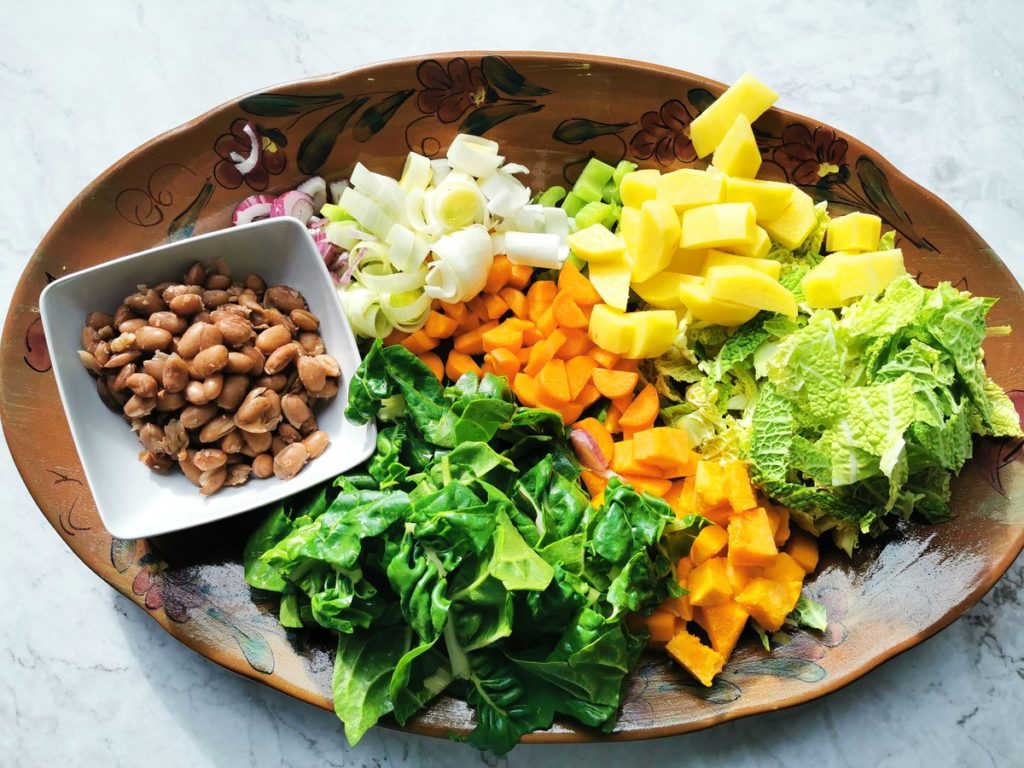 The base of minestrone is a 'soffritto' of carrots, celery and onions. These are fried in some kind of fat, usually olive oil, then the rest of the veggies go in the pot along with water or stock/broth. The rice or pasta is usually cooked in the soup at the end.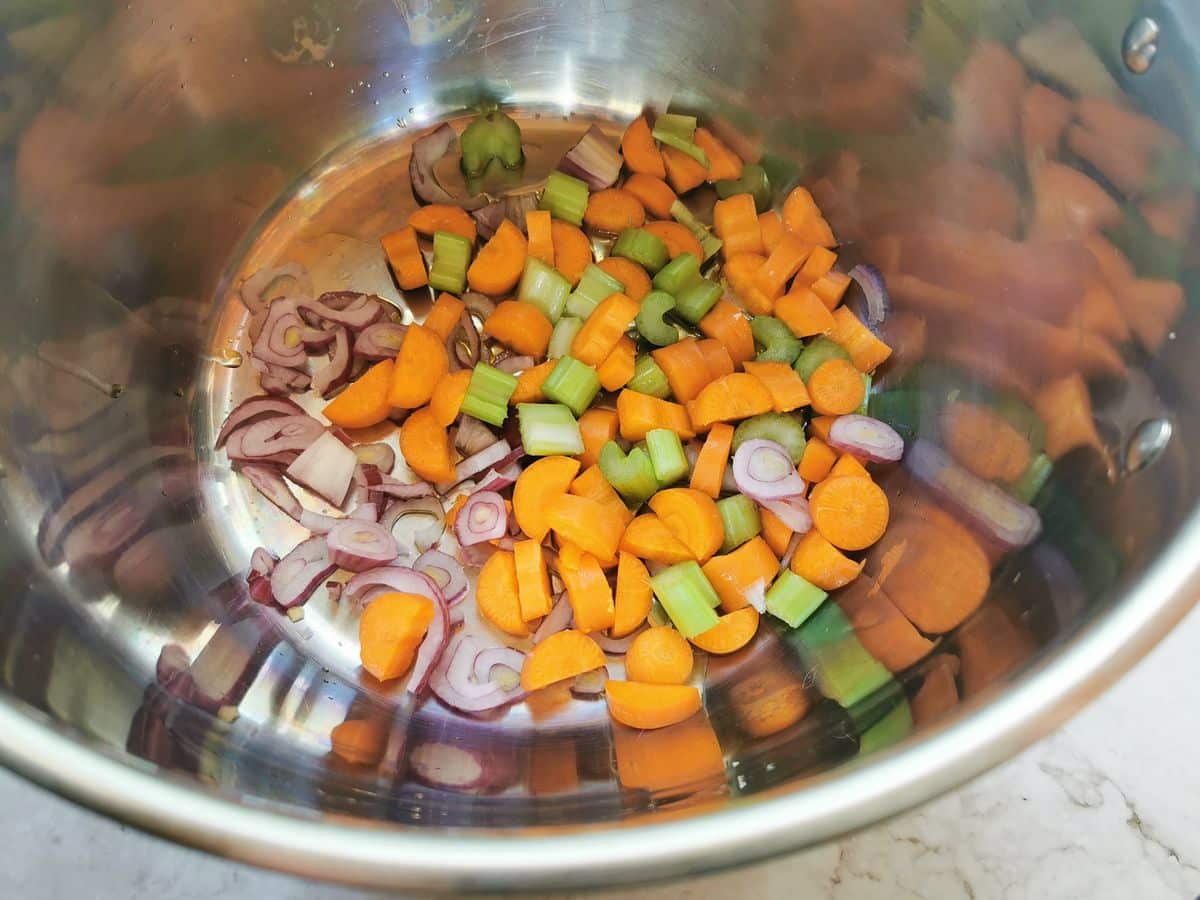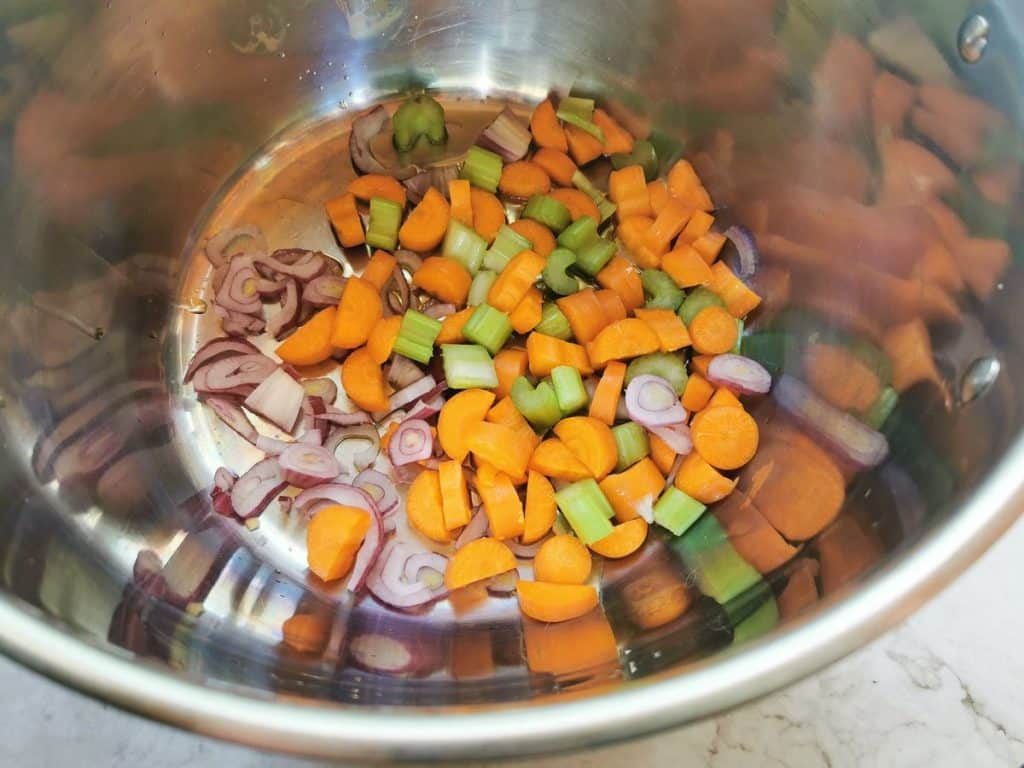 In Italian, the word 'minestrone' is also used informally to refer to a set of different and disorganized things, For example 'Quel programma televisivo è un minestrone di notizie e servizi' meaning 'that TV program is a 'soup' of news and services!!
This Tuscan minestrone with orzo.
Needless to say, this warming and comforting Tuscan minestrone recipe comes from Tuscany. However, there are different versions even within that one region. What most Tuscan minestrone soup recipes have in common is the inclusion of seasonal veggies and beans.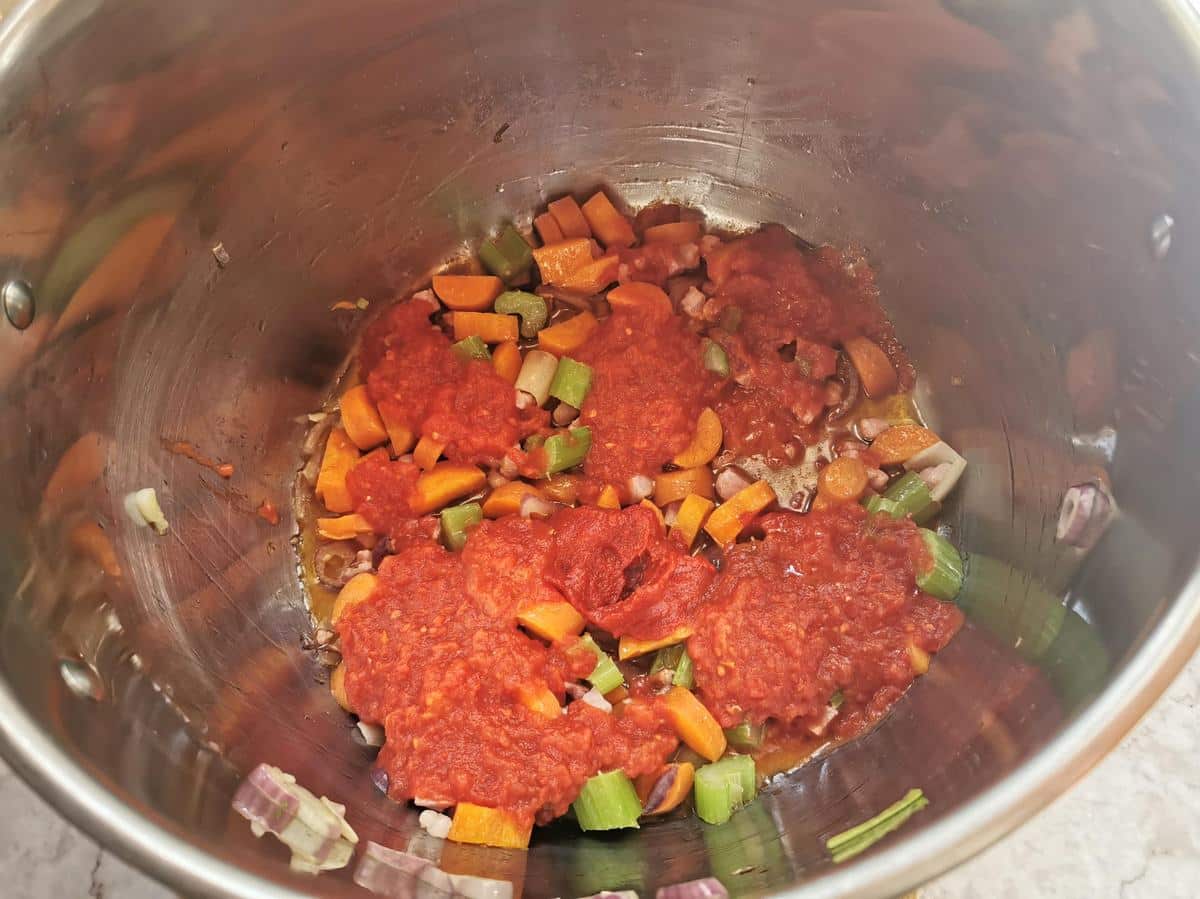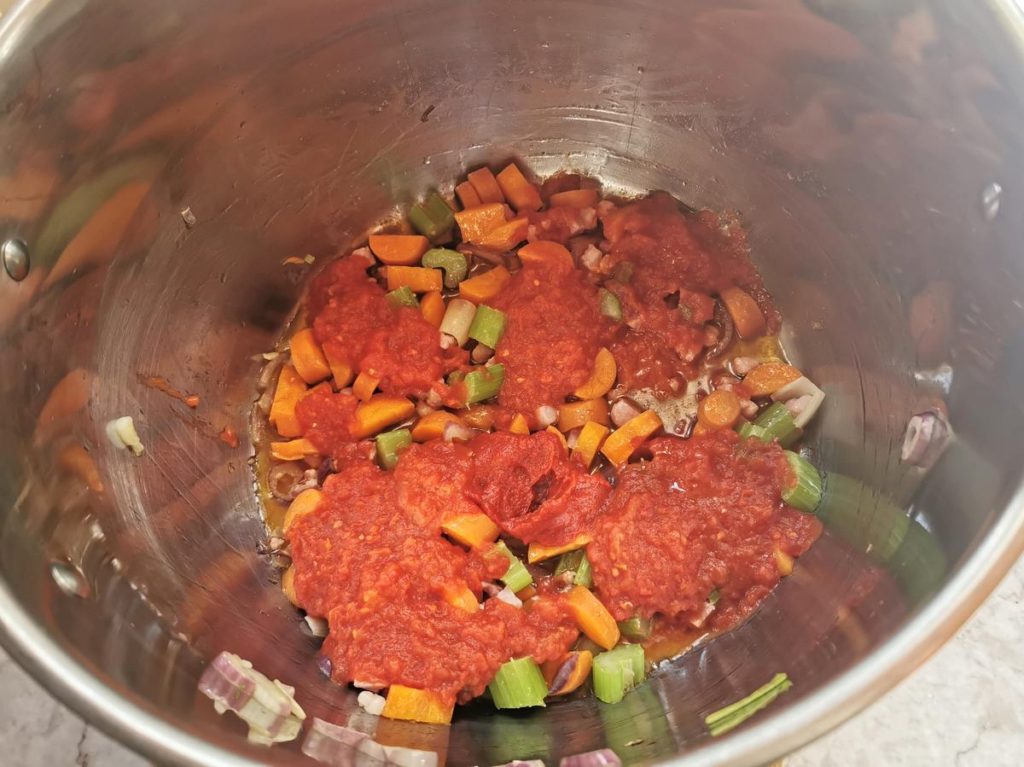 Which beans are in Tuscan minestrone soup?
The two most popular types of beans for this minestrone with pasta are either white cannellini beans or borlotti (cranberry beans). I found recipes calling for either or both. I used just dried borlotti. This meant I had to soak and boil them first. Although this makes the recipe longer to prepare, I prefer using dried beans. Plus the bean cooking liquid can be used in the minestrone. If you prefer to use canned beans you can use broth for the liquid. To keep this recipe vegetarian use a vegetable broth.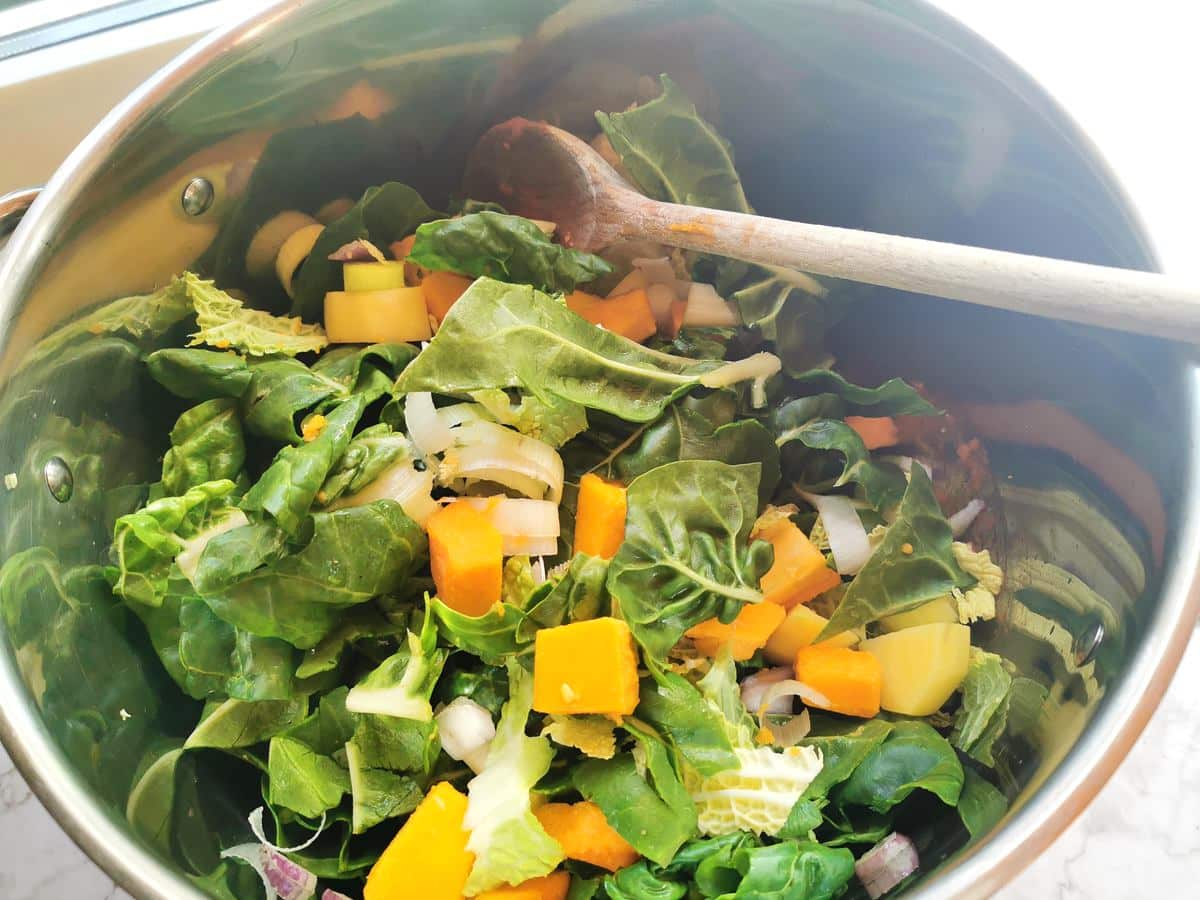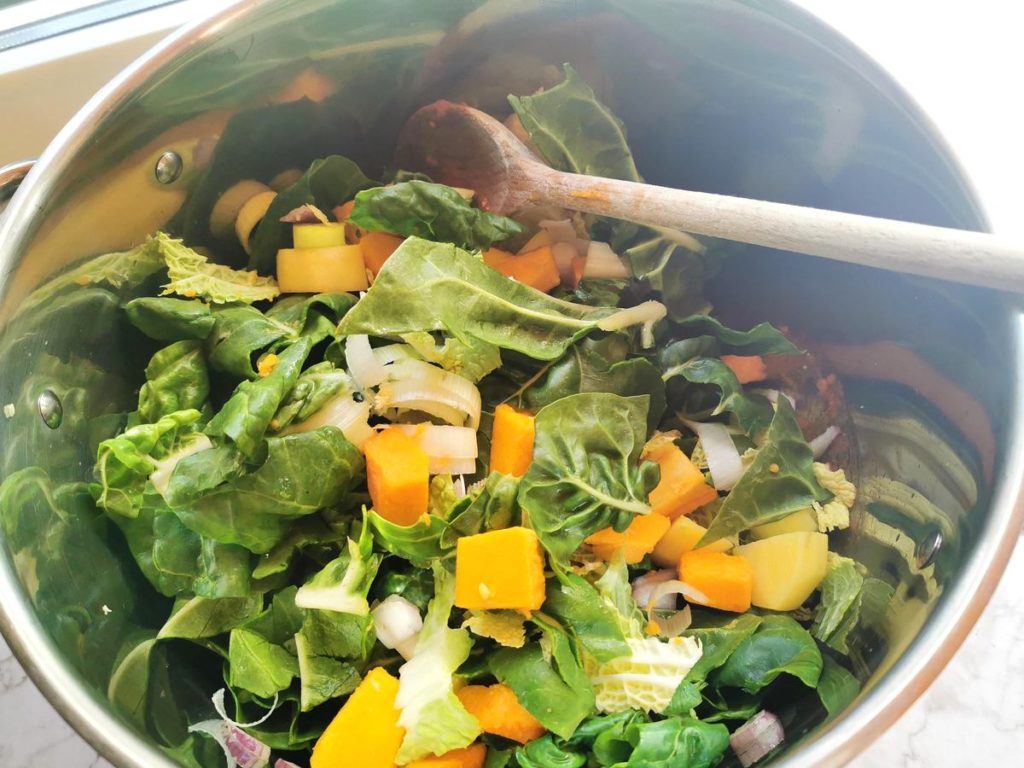 Beans are an important staple in Tuscany. In fact, other Italians refer to Tuscans as 'mangiafagioli', meaning the bean eaters! Apparently, beans have long been considered the poor man's meat in Tuscany. In fact, there are many well-known Tuscan bean recipes which originated in 'la cucina povera' (the kitchen of the poor). Probably the most famous is ribollita, a bean soup made with veggies, white beans and bread.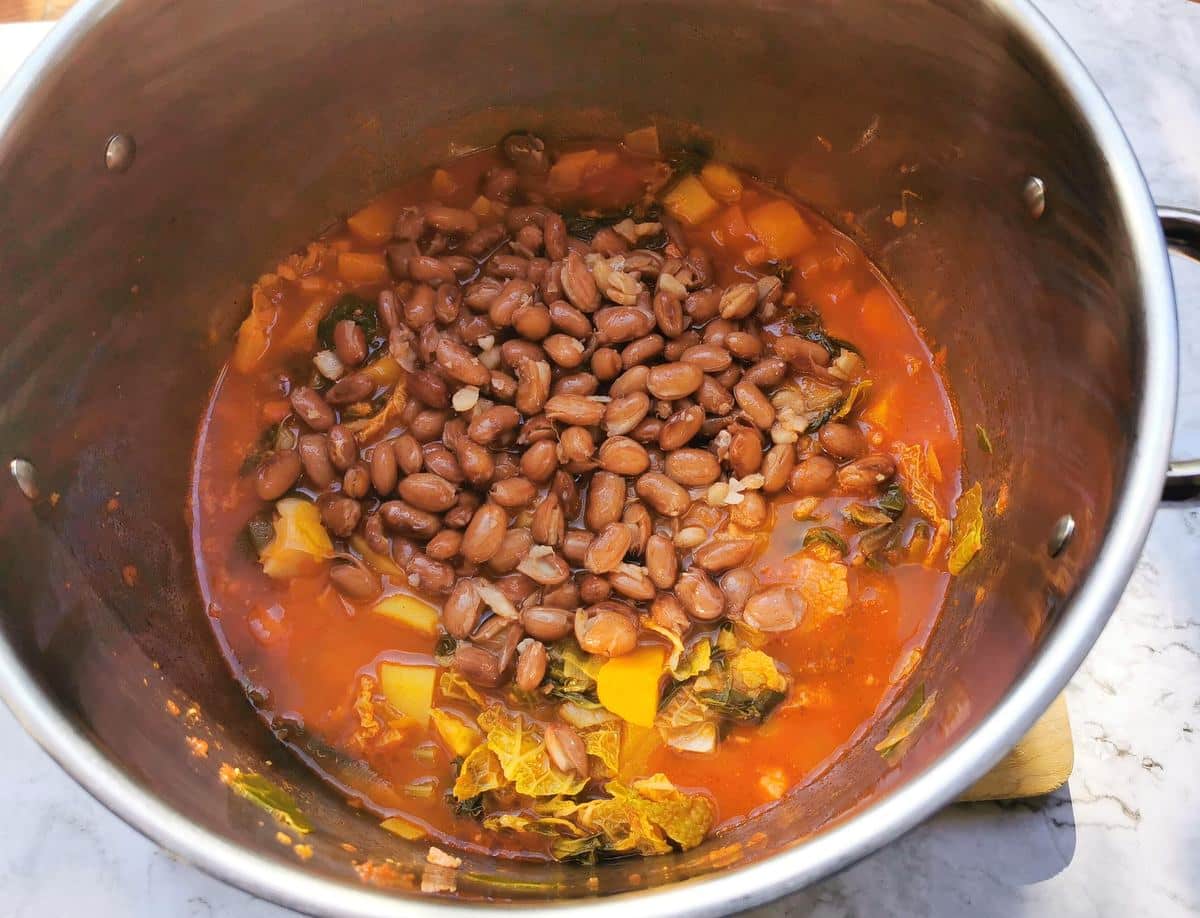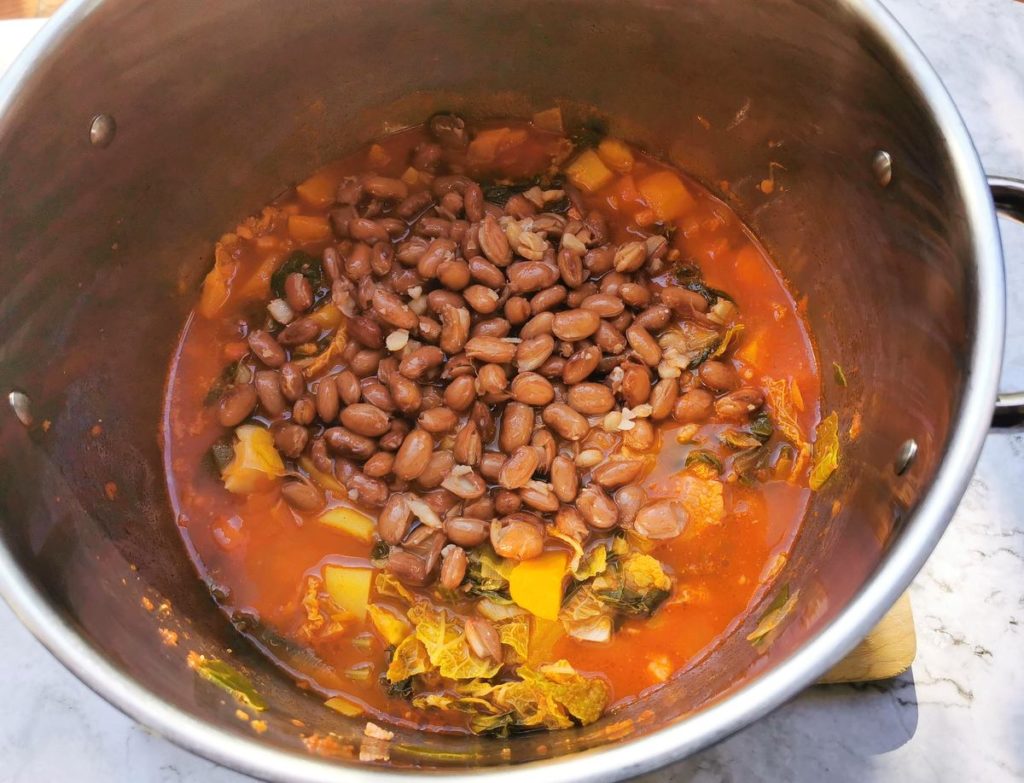 Which type of pasta is in this minestrone?
Ribollita doesn't have pasta in it but Tuscan minestrone soup does. The most commonly used pasta types are ditalini or maltagliati. I used orzo (risoni). Sometimes, I prefer to use smaller pasta in soups. I particularly like orzo because it is very similar to rice in size, shape and consistency. In fact, you can also use rice in this recipe.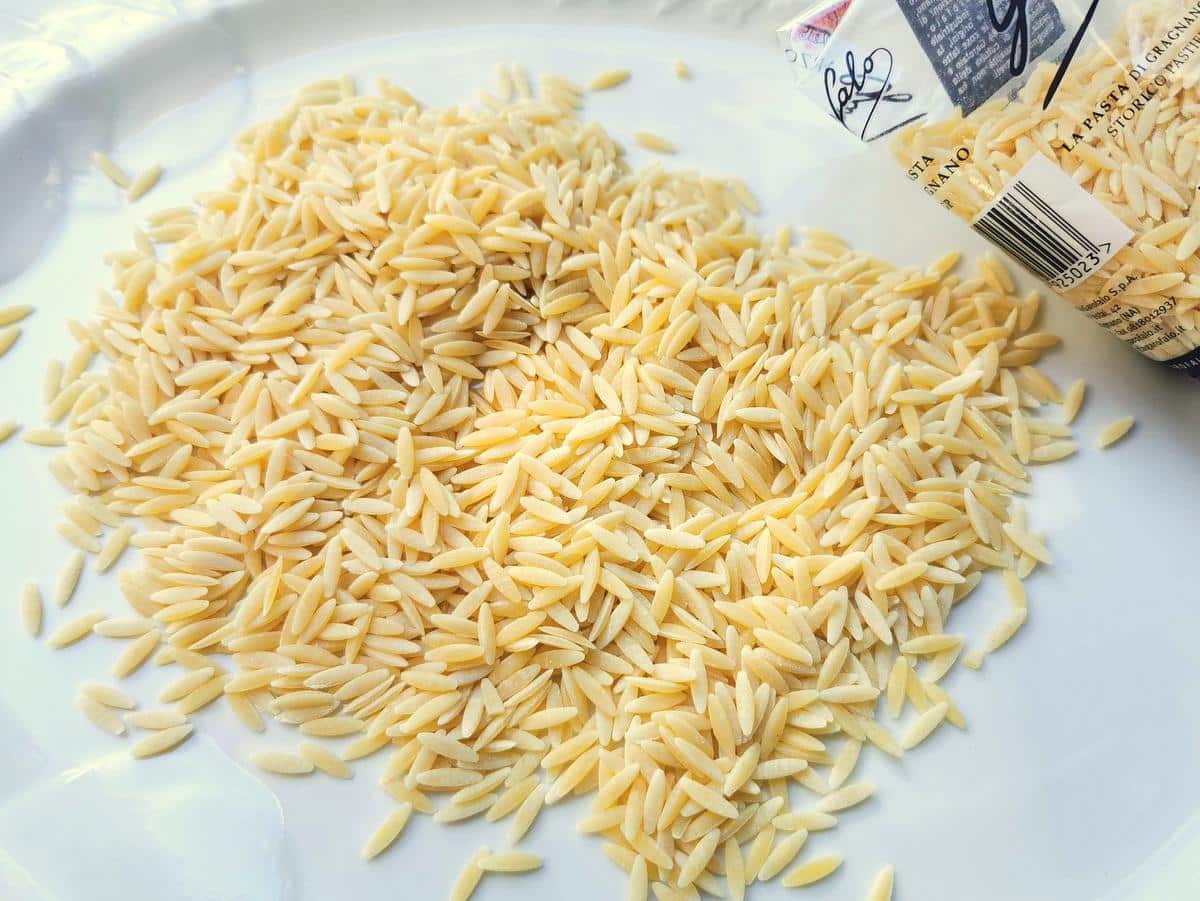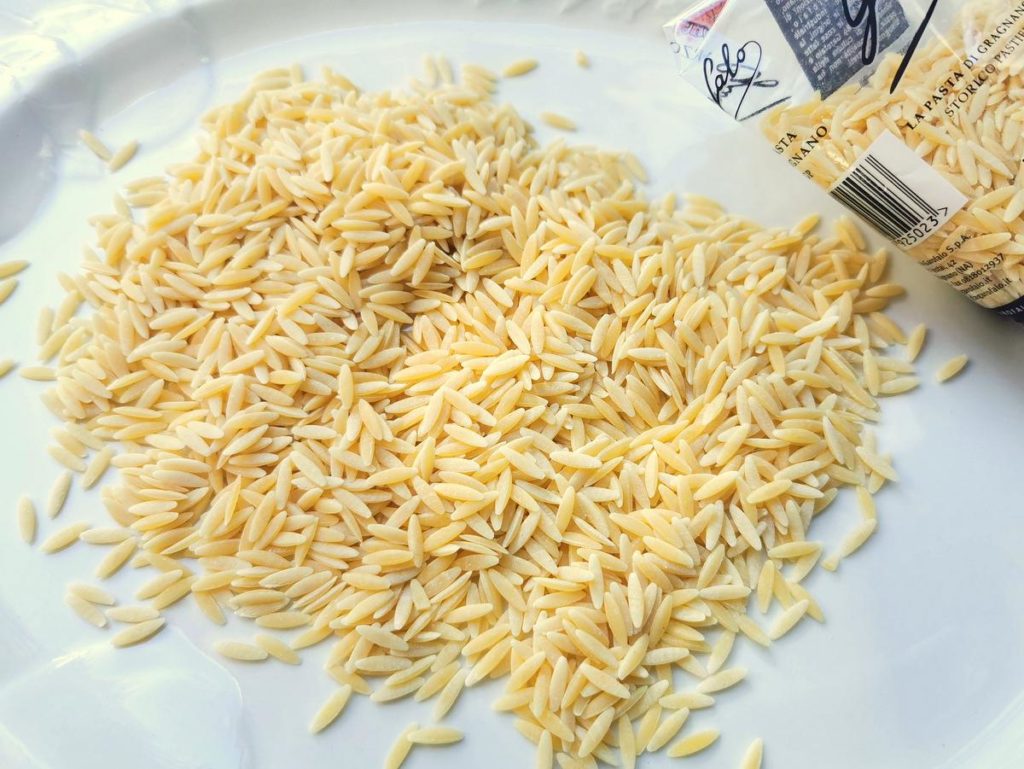 Italians make quite a variety of small soup pasta. These are called pastina and there are about 30 different shapes available. You can read more about orzo (risoni) and other types of pastina in my orzo post.
What vegetables are in Tuscan minestrone soup?
Since this Tuscan minestrone is traditionally an autumn/winter dish, the veggies are usually what's seasonal then. This recipe has potatoes, squash, carrots, onions, Swiss chard, Savoy cabbage, leeks, celery and tomatoes (paste and passata). You can also use peeled fresh tomatoes. The only ingredient missing from the original recipe because my veggie shop had run out is Italian kale (cavolo nero). Feel free to add it too.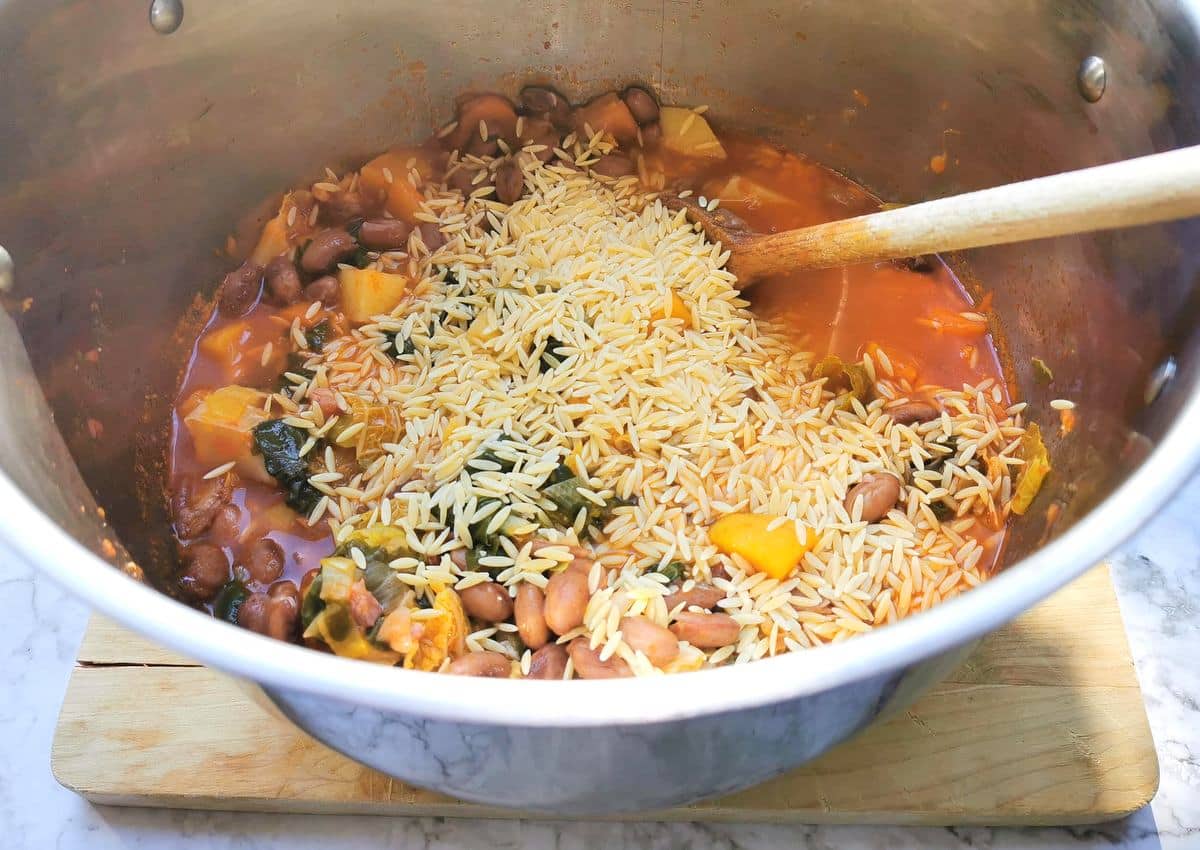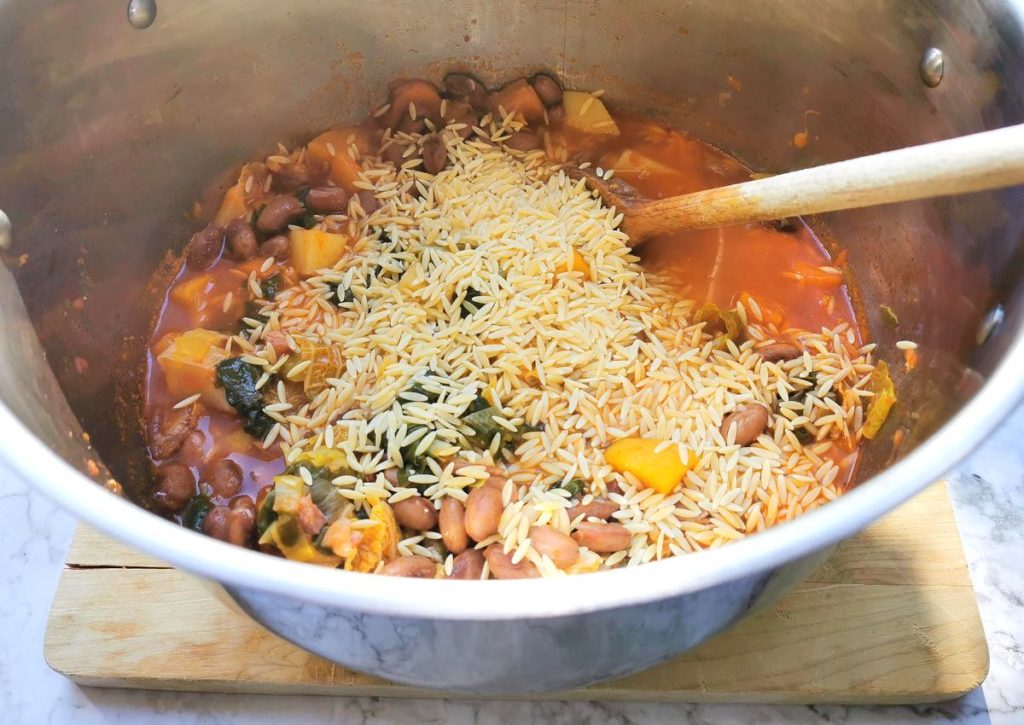 Does Tuscan minestrone contain meat?
Some recipes for Tuscan minestrone with pasta also include pancetta. I didn't add it this time. But, if you're not vegetarian, it's a tasty addition. Sausage meat would also be a tasty addition. In Lazio, they sometimes add guanciale to minestrone and in Trentino Alto-Adige, speck is a popular addition. If you decide to add pancetta or other meat, fry it with the soffritto at the beginning of making this recipe.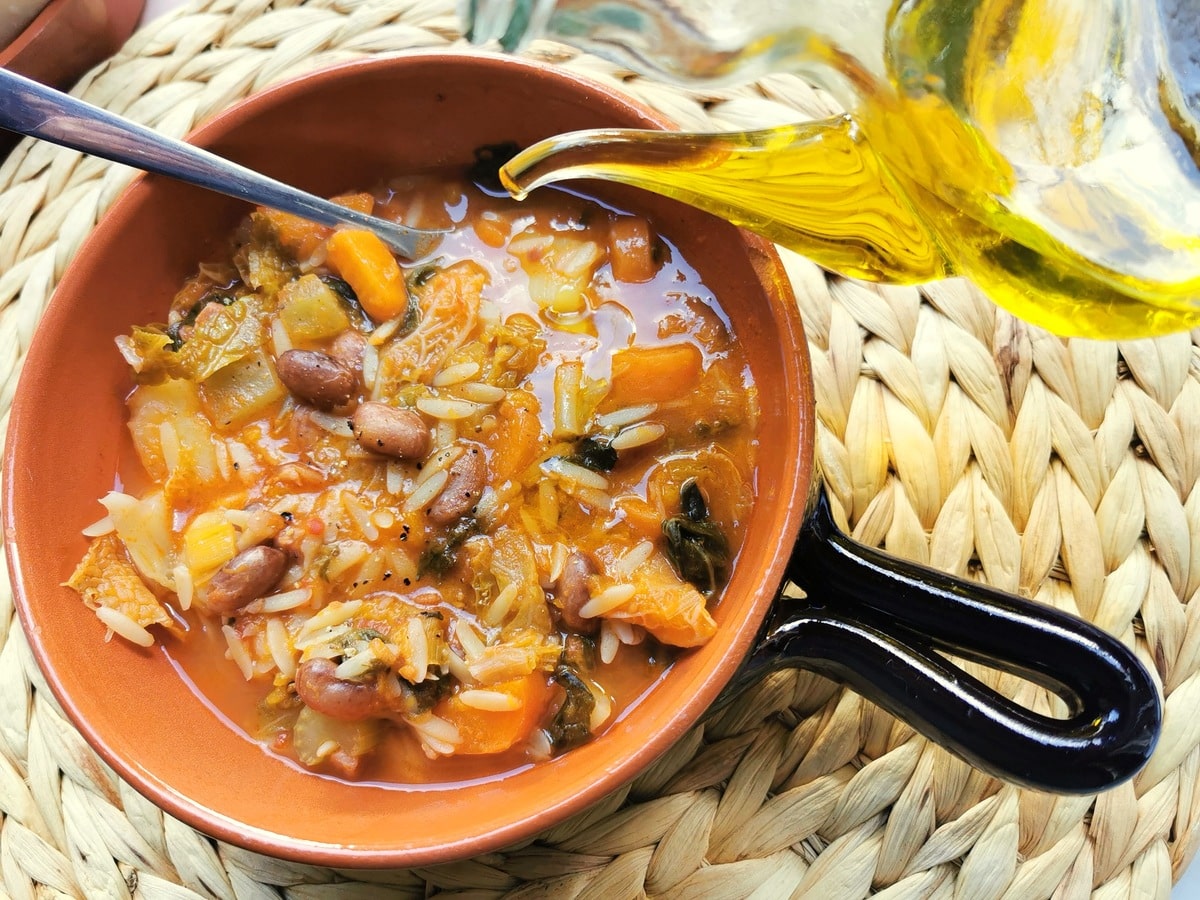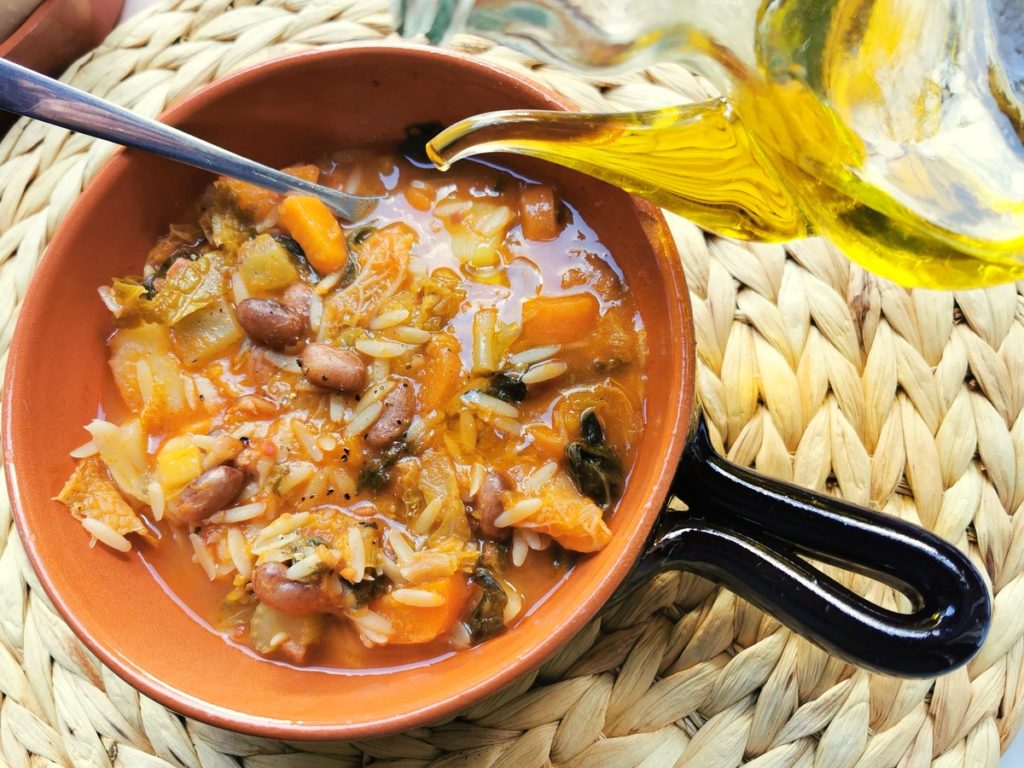 Minestrone is good for you.
Italian minestrone fills you up with a variety of vitamins, minerals, enzymes, antioxidants and other nutrients that help you stay healthy, strong and full of energy. In addition, it helps your body's ability to fight seasonal ailments. It's a very healthy soup and good for dieting too! Definitely a dish to include in your autumn/winter meal rotation!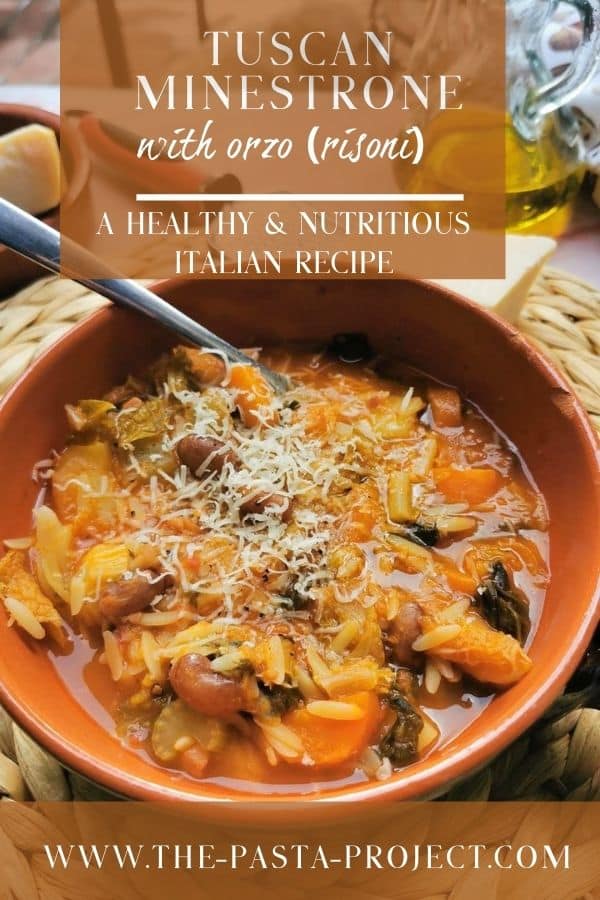 Italians usually serve minestrone with a dash of good extra virgin olive oil and freshly grated Parmigiano-Reggiano. It's well worth serving your Tuscan minestrone the same way if you can. The olive oil and grated cheese bring the whole dish up to another level! Vegetarians and vegans will need to substitute the parmigiano.
If you make this Tuscan minestrone with orzo recipe, I'd love to hear how it turns out and if you liked it. Please leave a comment here on the blog or on The Pasta Project Facebook page.
Looking forward to hearing from you!
Buon appetito!
Other pasta with soup recipes you may like.
SAVE THIS RECIPE FOR LATER?
If you want to save this recipe for later, you can print it, bookmark this page or save it to Pinterest.
DON'T FORGET TO PIN FOR LATER.