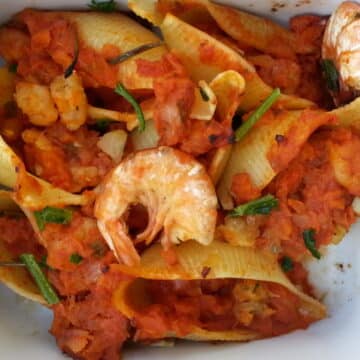 Conchiglioni (jumbo pasta shells) with prawns or scampi
A very beautiful stuffed shell pasta recipe from Puglia which will impress your guests no end!
Cuisine:
Italian, Puglia, Southern Italian
Ingredients
300

g

conchiglioni

large shell pasta

800

g

scampi or large prawns

5

tbsp

extra virgin olive oil

50

g

butter

1

handful

fresh parsley

chopped

1

carrot

finely chopped

1

celery stalk

finely chopped

1

onion

peeled and finely chopped

1

garlic clove

peeled and chopped

1

tsp

dry or fresh Rosemary

5

ml

brandy

120

g

chopped tomatoes or tomato pulp

2

tbsp

curry powder

salt

for pasta and to taste

black pepper

to taste
Instructions
wash and peel the scampi/prawns.

Chop half of them into pieces

Leave the rest whole with the heads and tails

In a pan heat the butter and oil and add the garlic, rosemary and finely chopped celery, carrots and onion

Allow the vegetables to cook until they start to soften.

Add all the scampi/prawns (chopped and whole) to the pan and cook until they are slightly brown, pour the brandy over them and continue cooking until the alcohol evaporates.

Remove the whole scampi/prawns from the pan, remove their heads and keep the body with the tails warm.

Put a pan of water on to boil for the pasta. Add salt when the water starts to boil and bring to the boil again.

Add the tomatoes to the sauce, simmer for 10 minutes and then add the curry powder.

Cook for another 2-3 minutes.

Add the chopped parsley and season with salt and pepper. (In some recipes cream is added here but I decided not to. You can, of course!)

Cook the pasta very al dente in the boiling salted water.

Drain the pasta and place side by side in a baking/oven dish

Fill each shell with the tomato and scampi/prawn mixture. You can either place a whole scampi/prawn tail at the bottom of each shell first before the sauce or place them scattered on the top of the stuffed pasta shells.

Cook the stuffed shells under the grill or in a preheated oven (180°) for 5 minutes until the pasta starts to brown at the edges, serve immediately.
Recipe Notes
Instead of conchiglioni this dish can be made with lumaconi (snail shell pasta)