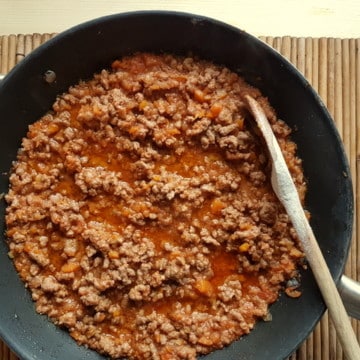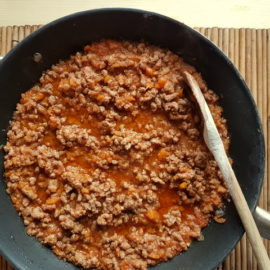 Tagliatelle Bolognese
Bolognese is probably the most famous pasta sauce in the world, however to make a real authentic bolognese the sauce has to be cooked for 2-3 hours! You'll definitely taste the difference.
Ingredients
3

tbsp

extra virgin olive oil

1

onion

finely chopped

2

carrots

finely chopped

2

celery stalks

finely chopped

500

g

minced beef

(1.1lbs)

500

g

minced pork

(1.1lbs)

150

ml

white or red wine

(5floz)I use white because sadly I have an allergy to red wine!

250

ml

milk

(8floz)

250

ml

beef stock

(8floz)

400

g

fresh and peeled tomatoes or passata

(14oz) I used passata rustica which is thicker

Salt and pepper to taste

800

g

tagliatelle

(1.7lbs) fresh or dried I used organic whole wheat

Grated parmesan to serve
Instructions
Finely chop the onion, carrot and celery. These vegetables need to be very finely chopped so best done in a food processor.

Fry the vegetables in a little olive oil until they soften. (Some Italian chefs insist that the meat and vegetables be fried separately as they require different levels of heat)

In a separate pan, fry the minced meat in heated olive oil over a medium heat until it begins to brown and then add the cooked vegetables to it. ( or if you don't want to cook separately, add the meat to the vegetables and cook until the meat browns )

Add the wine, turn up the heat and continue stirring.

When the alcohol has evaporated, add the tomatoes or passata and the stock.

Lower the heat and leave to simmer partially covered for at least 1.5 hours, stirring occasionally,

Add salt and pepper to taste.

Add the milk, stir and continue to let the sauce simmer for another 30 minutes.

If you think the sauce is too liquidy you can remove the cover completely till it reduces.

If it is too dry, add some of the pasta cooking water once the pasta is cooked or just water.

After adding the milk, put water onto boil for the pasta. Add salt once it starts to boil and bring to the boil again.

Cook the tagliatelle 'al dente' according to the instructions on the packet.

Save a cup of the pasta cooking water if you think you need it. Then drain the pasta. Mix it with some of the sauce and then serve covered with more sauce and a sprinkling of grated parmesan as required.

Buon Appetito!
Notes
The longer you cook this sauce the richer it will be. The least amount of time to get close to the authentic flavour is 2 hours.
You can make bolognese ahead of time and keep in the fridge for a couple of days.
It also freezes well. I often make more than I need and then freeze the surplus for another day.