A simple Italian zucchini pasta recipe.
Spaghetti alla Nerano was invented in the fifties by a woman called Maria Grazia in a restaurant bearing her name in Nerano a small town on the Sorrento peninsula. Apparently, the restaurant still exists and is being run by her grandchildren! On my to-visit list!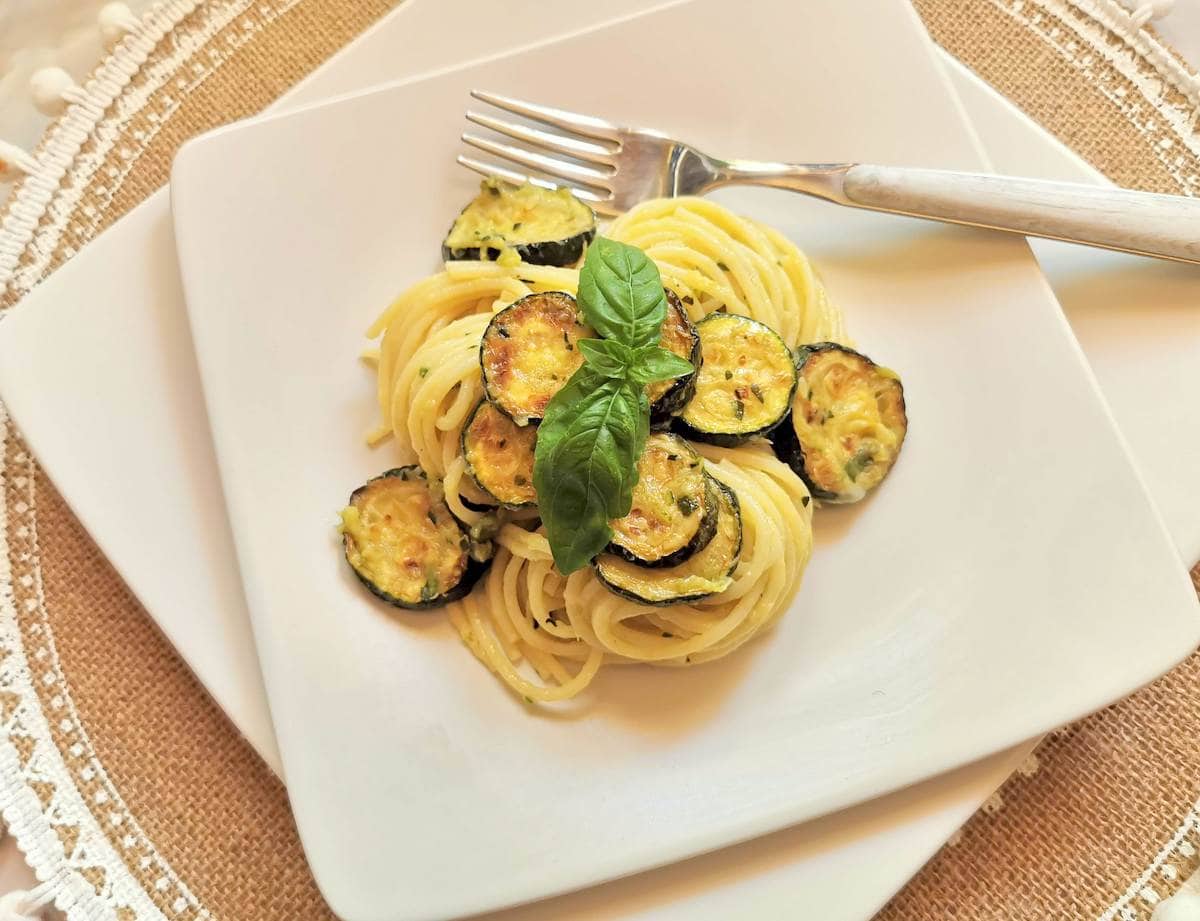 Spaghetti alla Nerano and Stanley Tucci.
This simple but delicious Italian fried zucchini pasta recipe has become very popular in the last year because of the American-Italian actor Stanley Tucci. Spaghetti alla Nerano featured in the first season of his popular Searching for Italy series. However, there are some slight differences between the recipe from that series and the one most Italians make.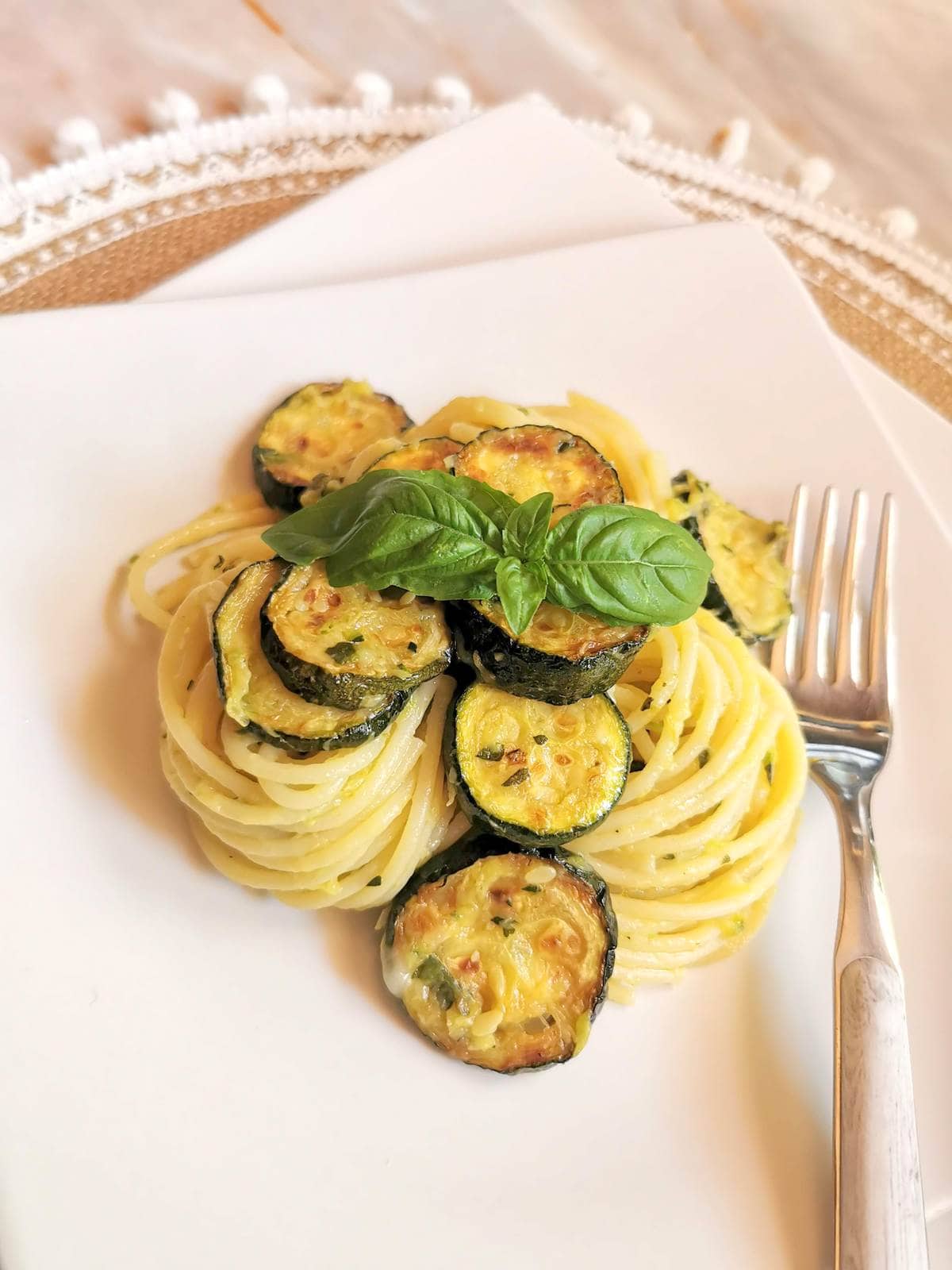 Italians love pasta with vegetables.
Many Italian pasta recipes are very simple and easy to make, especially those with vegetables like this spaghetti alla Nerano. Italians love pasta with vegetables. I think there are two reasons for this. Firstly, pasta is traditionally, and often, served as a first course (Italians say primo). This means it comes between the antipasti and the main course (secondo). Consequently, it needs to be kept light.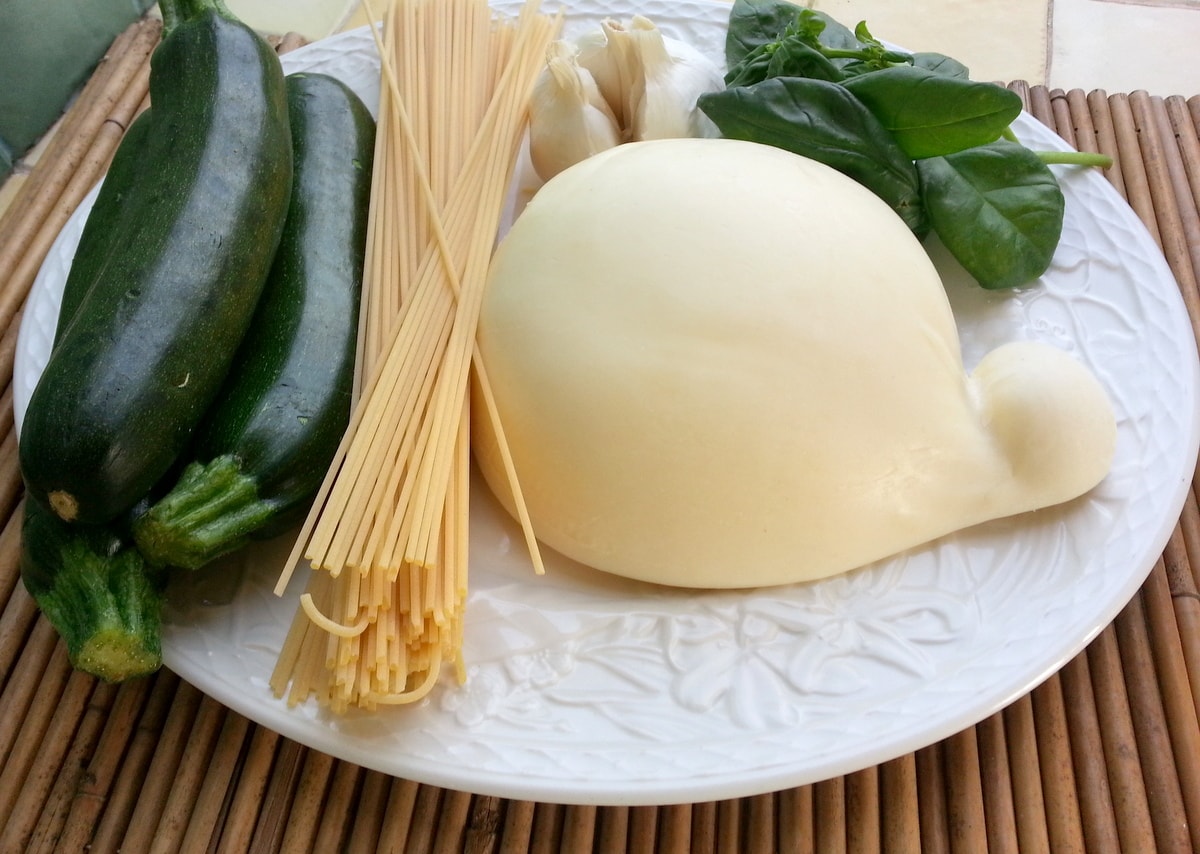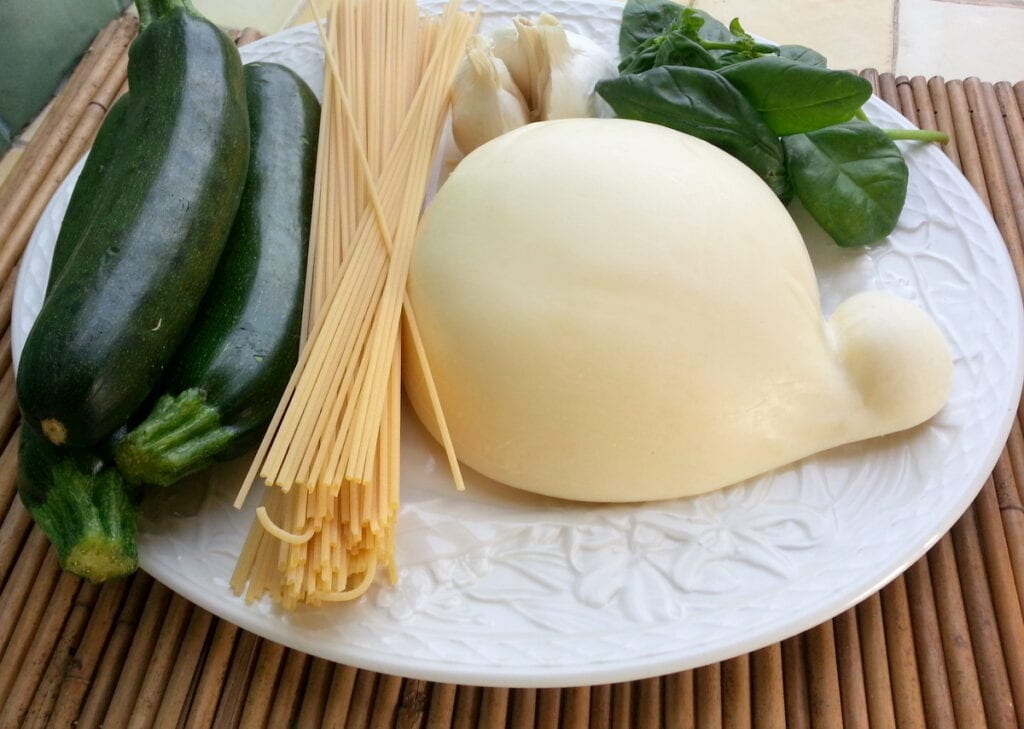 Secondly, Italy has a warm climate with long hot summers throughout the peninsula, but especially in the south. Heavy meals are difficult to digest in the heat, so Italian eat a lot of meatless pasta dishes. Of course, there are also many pasta recipes which include meat. However, Italians eat these more in the winter or on special occasions or when preparing pasta as a main course.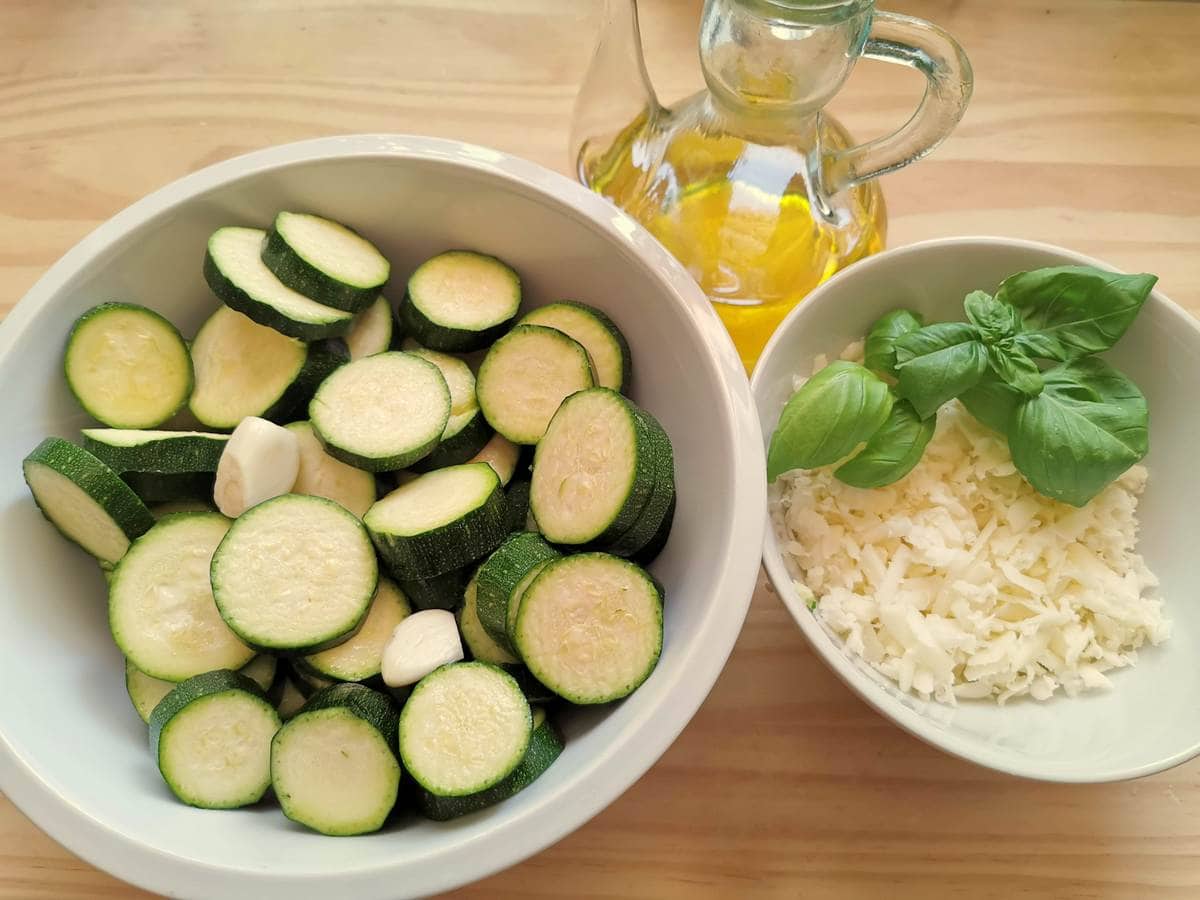 Fresh, seasonal and locally grown.
Vegetable based pasta dishes may be simple to make and more digestible, but, that doesn't mean they aren't flavourful. Italians have a talent for creating tasty food with only a few ingredients.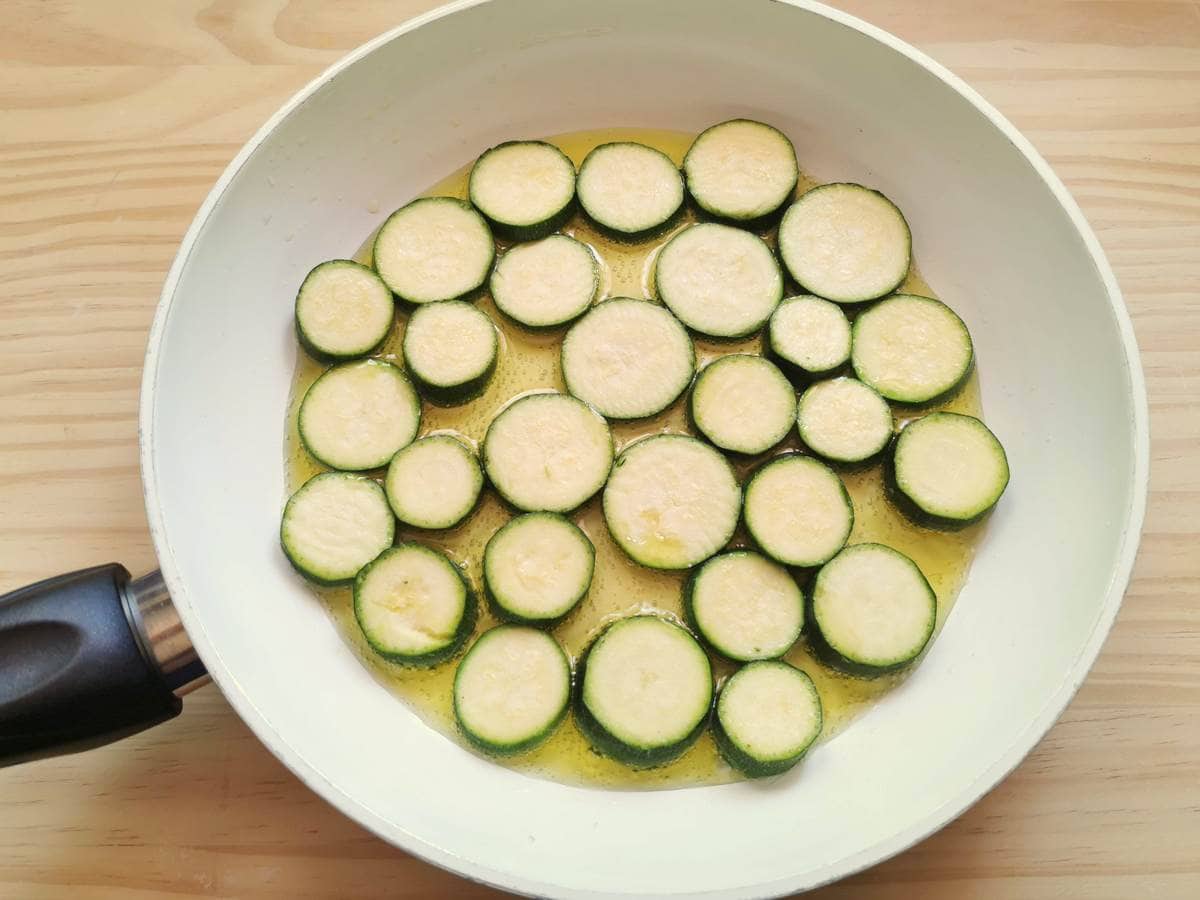 The vegetables they use are almost always fresh, seasonal and locally grown. They make good use of herbs, garlic and, on occasion, peperoncino (chili pepper). Cheese is nearly always present in vegetable based recipes. Italians mostly don't use cheese with seafood pasta.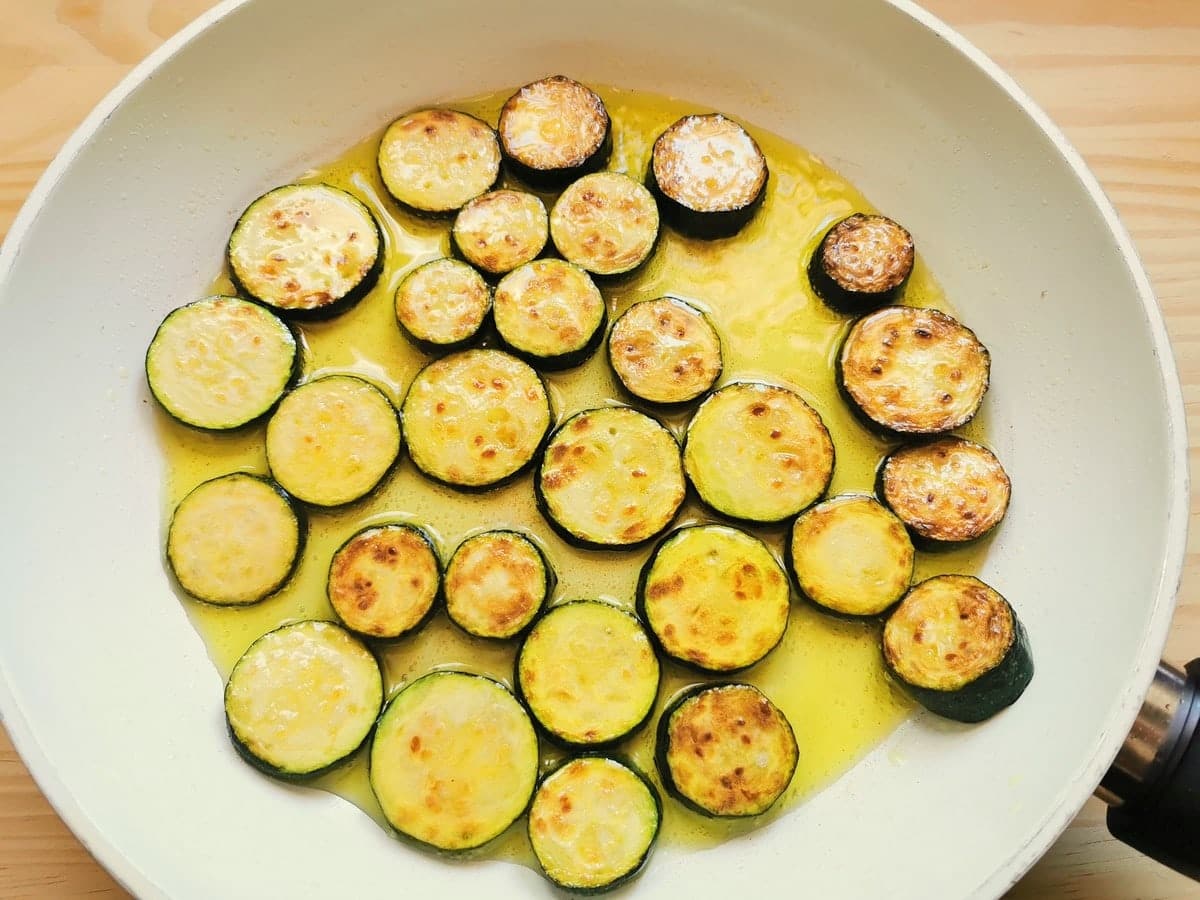 This recipe for spaghetti with fried zucchini (spaghetti alla Nerano) is an excellent example of a simple but exquisite summer vegetable pasta recipe. It comes from Campania and includes ingredients typical of Neapolitan cuisine.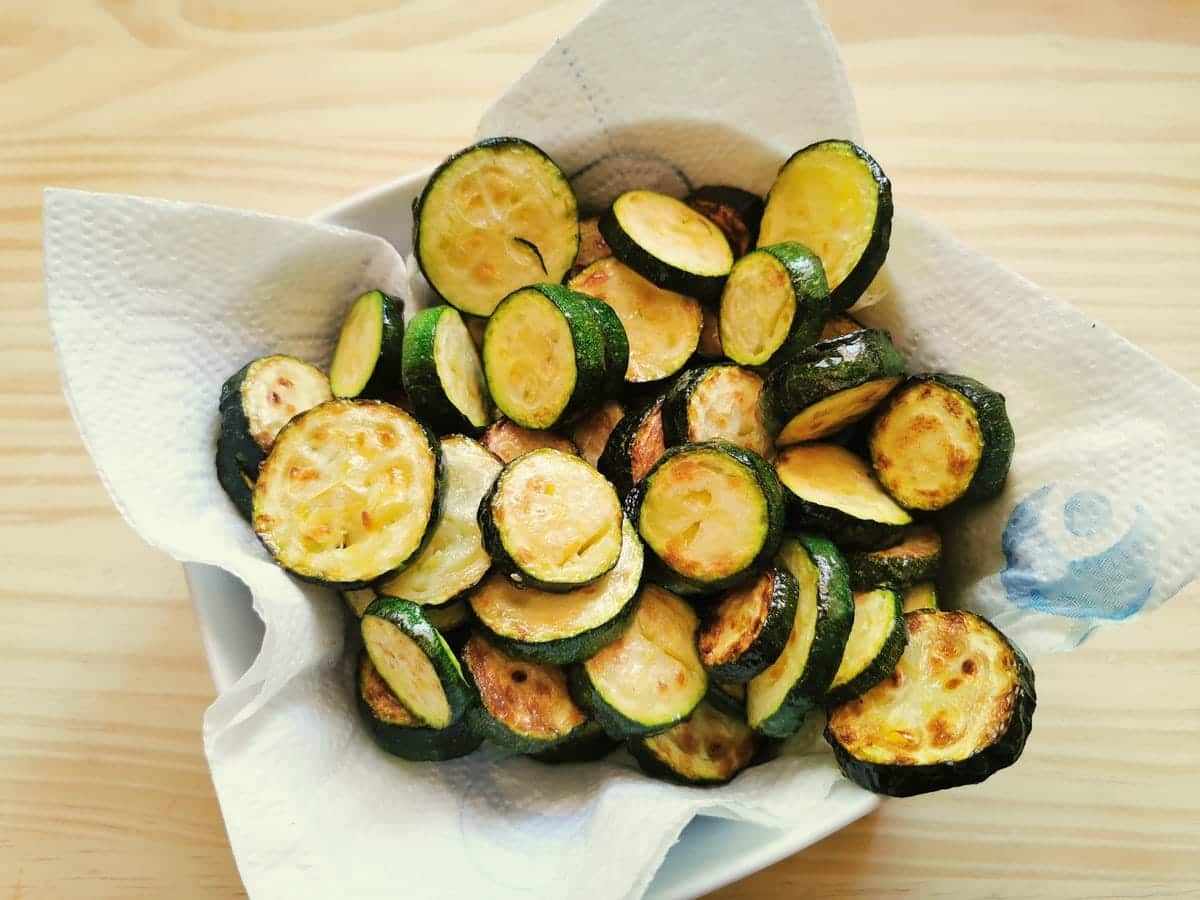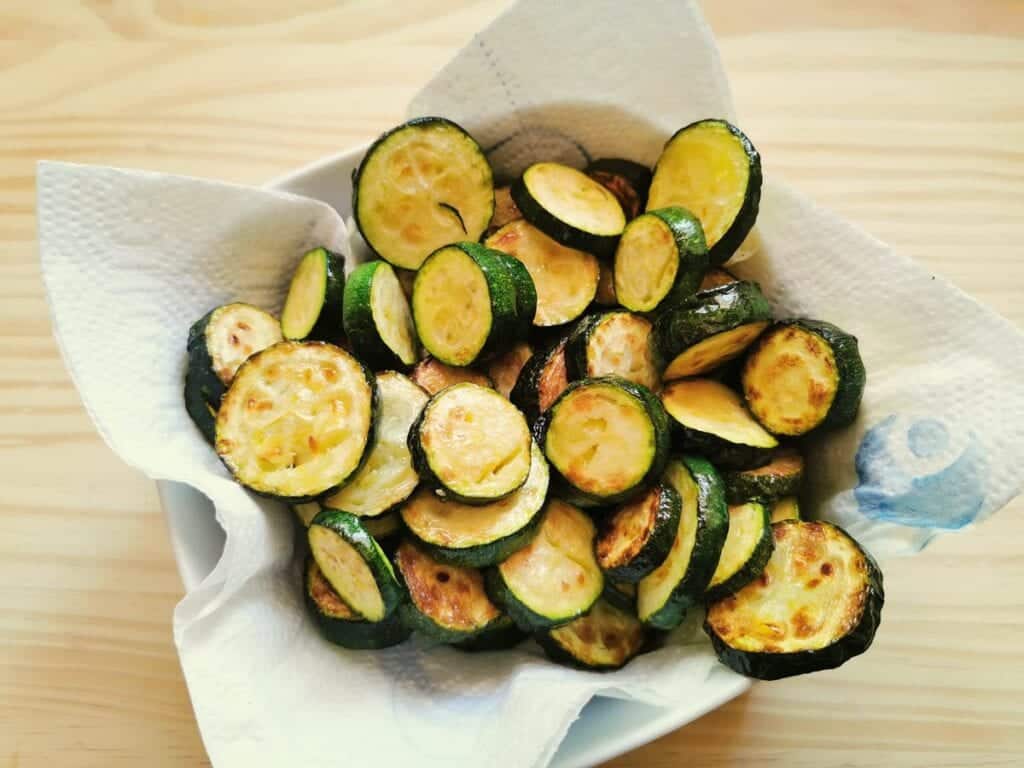 A little spaghetti alla Nerano history.
Like many pasta recipes, there are various stories behind the origins of spaghetti alla Nerano. But, the most widely accepted is that this recipe dates back to the fifties. It was the creation of a young chef called Maria Grazia in a restaurant bearing her name in Nerano a small town on the Sorrento peninsula. Apparently, the restaurant still exists and is being run by her grandchildren!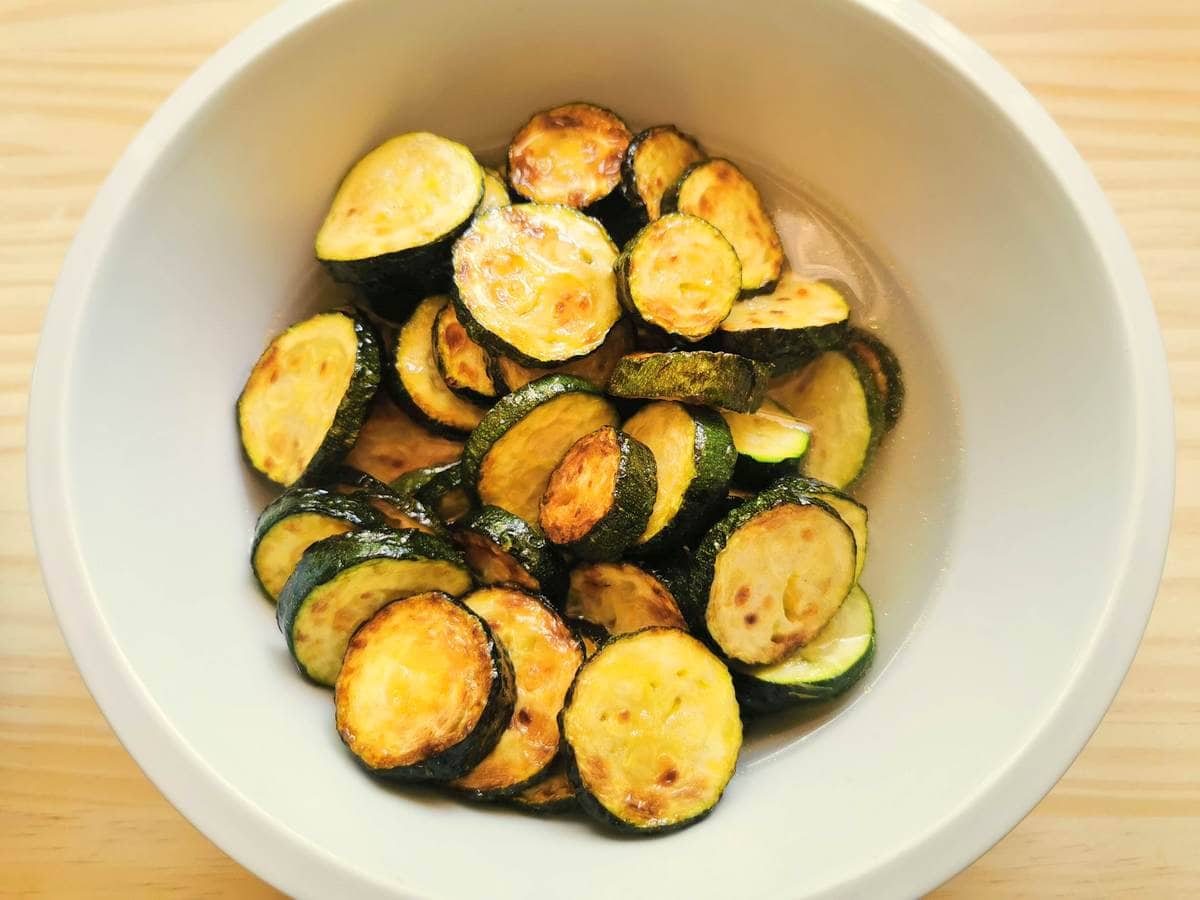 Different versions of Spaghetti alla Nerano.
Although, I have read that the original recipe for this fried zucchini pasta has been kept a secret by Maria Grazia's family, there are some Italian sites claiming the original. The problem is they aren't all exactly the same.
For example, most Italian recipes call for the zucchini to be fried in olive oil, but some say peanut oil. In the Stanley Tucci version, the chef used sunflower oil! I used extra virgin olive oil. It's the most traditional oil in Southern Italy and in my opinion adds flavour to the zucchini.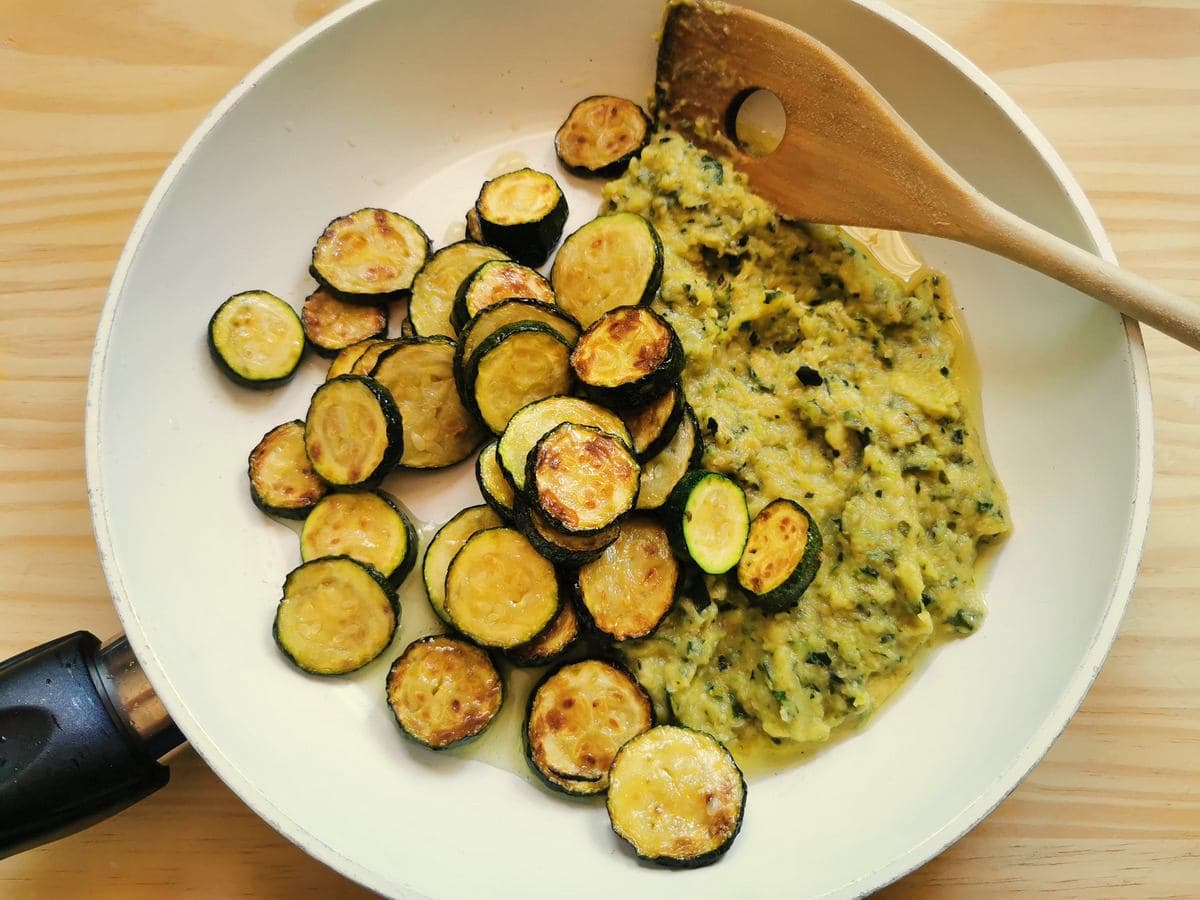 Another difference is in the cheese. An Italian article I came across about this recipe said that originally 3 cheeses were used; caciocavallo, pecorino and caciotta. Nowadays, most Italian recipes include provolone del Monaco or caciocavallo and maybe some pecorino.
In the recipe from 'Searching for Italy' the cheese is Italian Parmigiano Reggiano. None of these Italian cheeses are vegetarian, although vegetarian provolone exists and, of course, you can use vegetarian parmesan.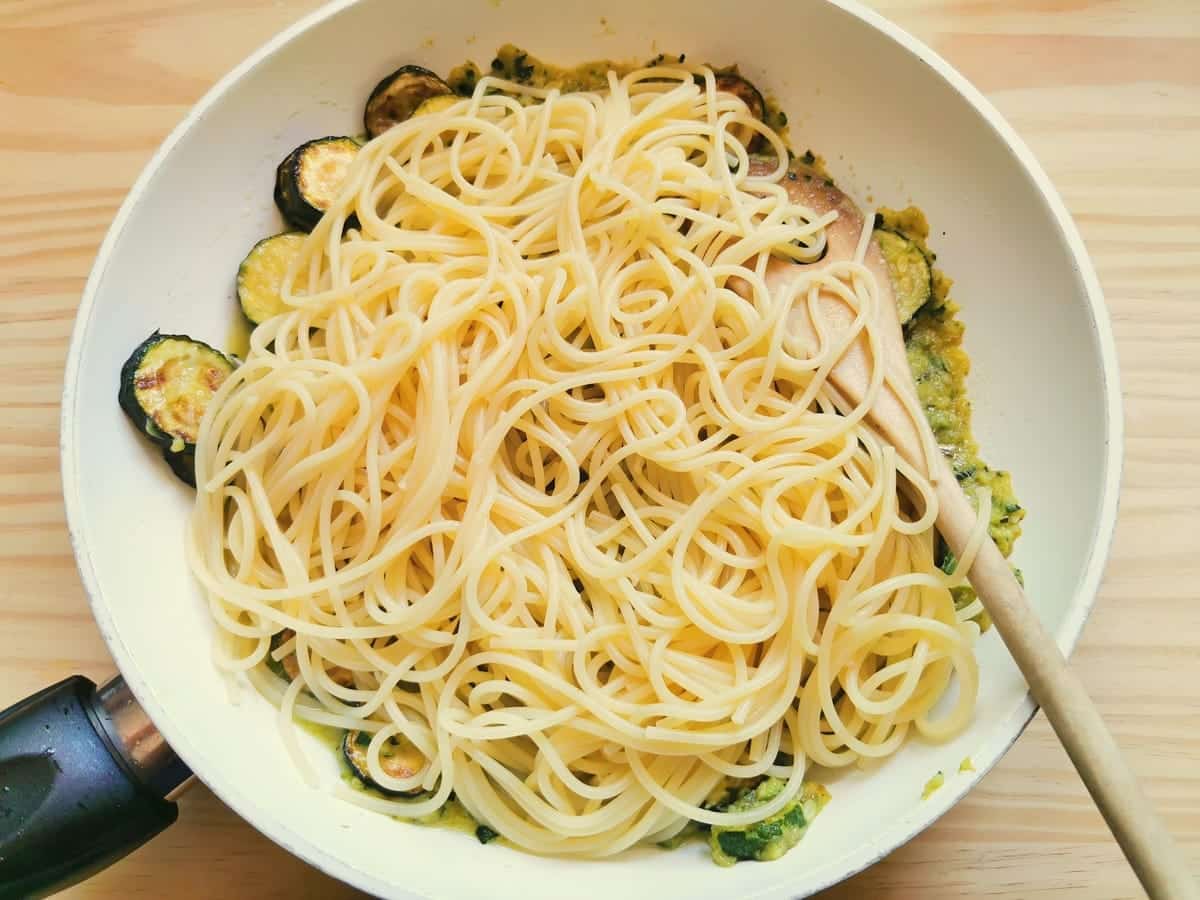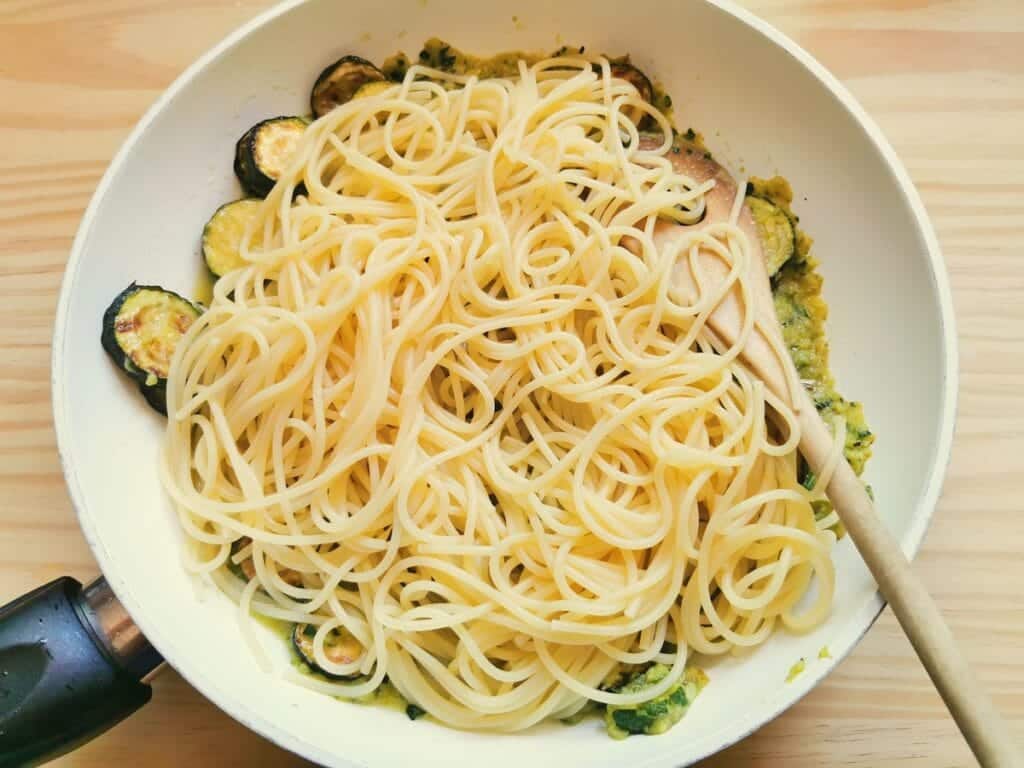 The cheese I used.
I used the above mentioned Provolone del Monaco. This is a semi-hard cow's milk cheese from the Monti Lattari area near Naples. It can be quite spicy depending on the maturation. Although provolone del Monaco isn't available everywhere, there are other spicy provolone cheeses available in Northern Italy and even in America which you can use instead.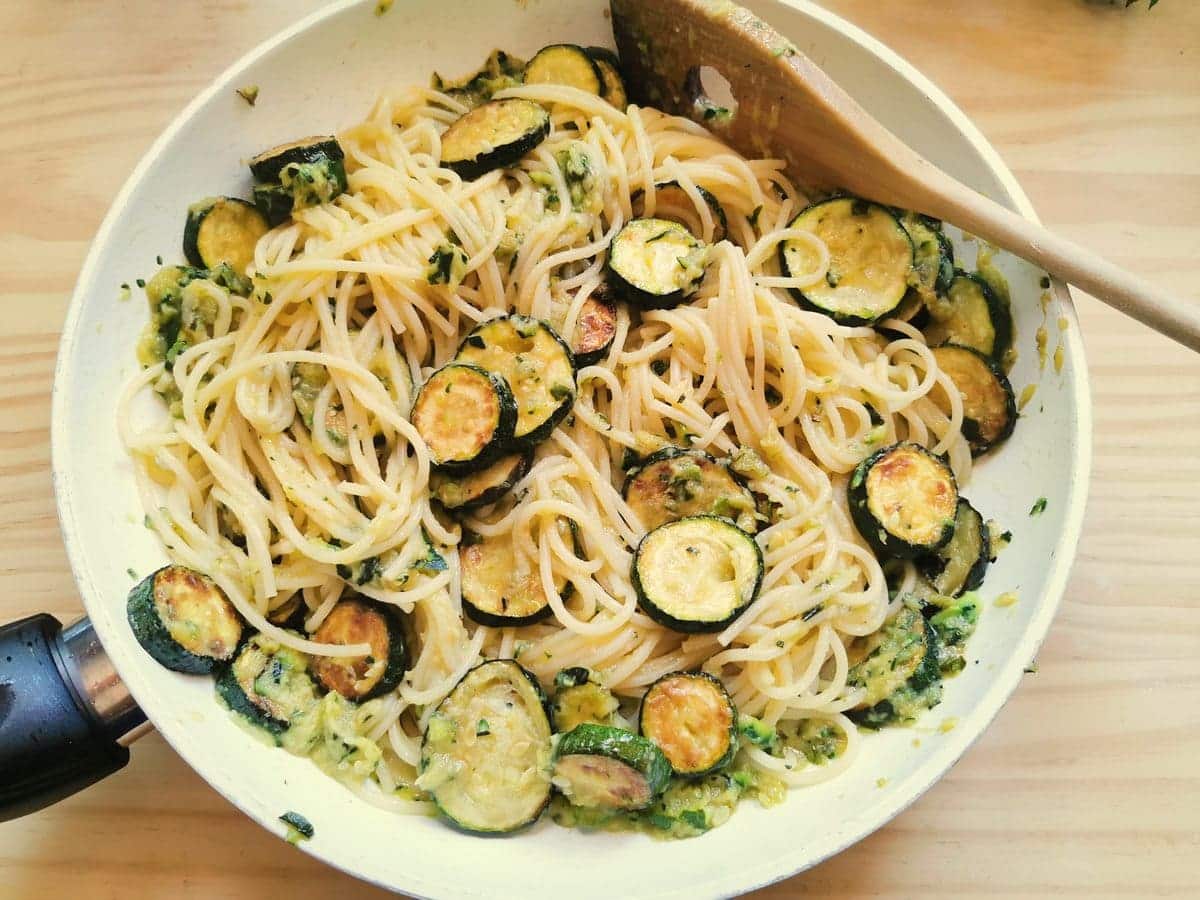 The secret to a great spaghetti alla Nerano.
In my opinion, the secret to this dish is that the fried zucchini slices have to be immersed in boiling water. This is so that they reabsorb some of the liquid they lost during the frying. Then some of the zucchini slices are creamed with some pasta cooking water.
You only need to cream 1/3 of the zucchini slices. The rest are left whole. Not all Italian recipes for spaghetti alla Nerano call for these steps, nor does the Stanley Tucci version. But, I think it makes this dish creamier and richer.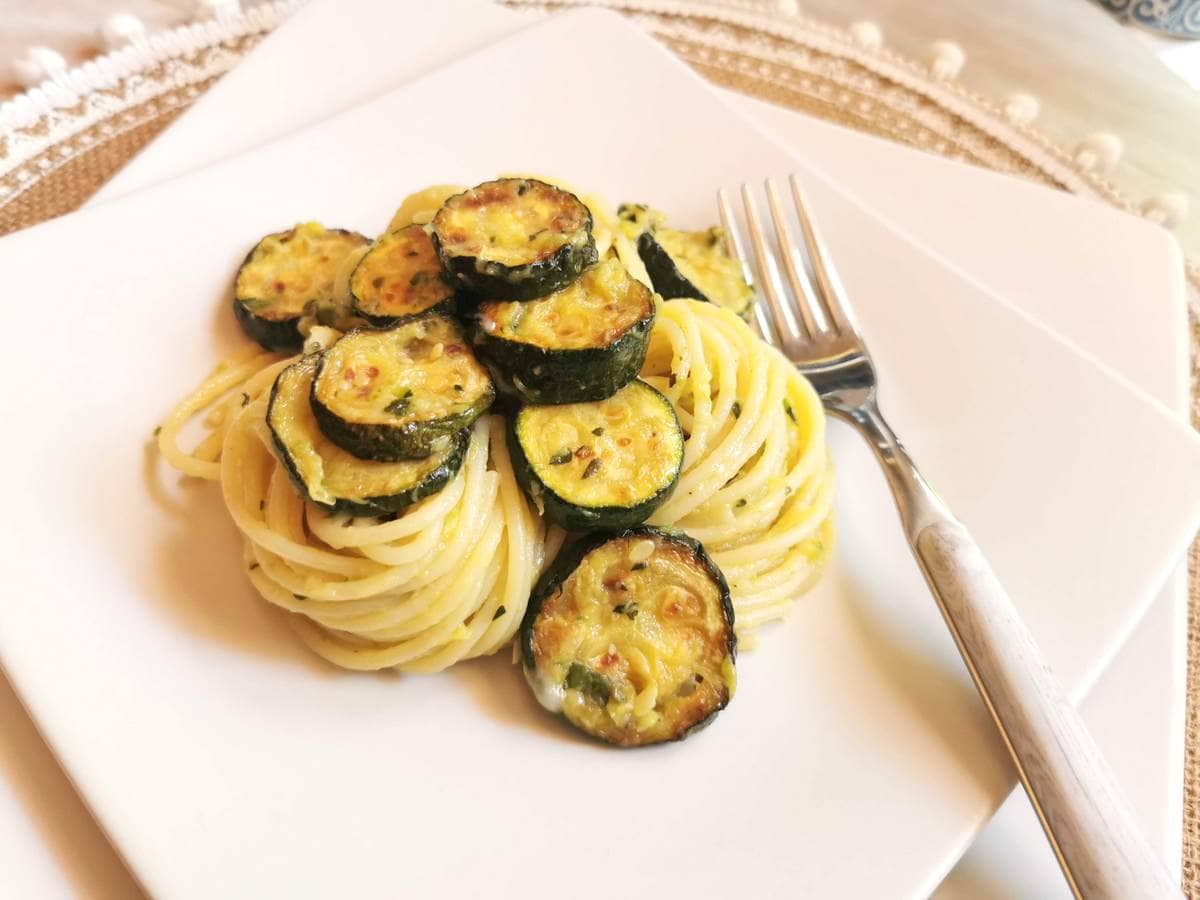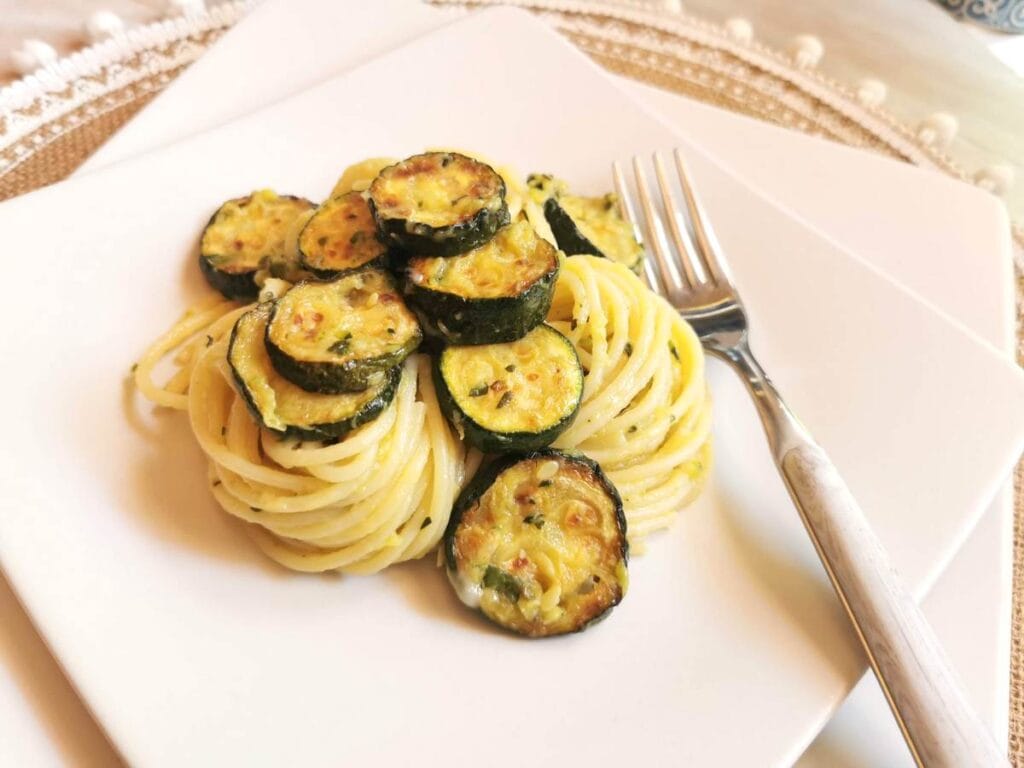 As I said before, this is a very simple but tasty vegetable pasta recipe particularly good in summer when basil and zucchini are in season. I'm sure that once you have tried it you will come back to it time and again, as I do.
If you do try this spaghetti alla Nerano recipe, I'd love to hear what you think. Please write a comment here on the blog or post a comment on the Pasta Project Facebook page.
Your feedback means a lot to me!
Buon Appetito!
Here are my best spaghetti recipes, and other delicious pasta recipes with zucchini:
N.B. This recipe was originally published in 2017 but has been updated.
Save this recipe for later?
If you want to save this recipe for later, you can print it, bookmark this page or save it to Pinterest.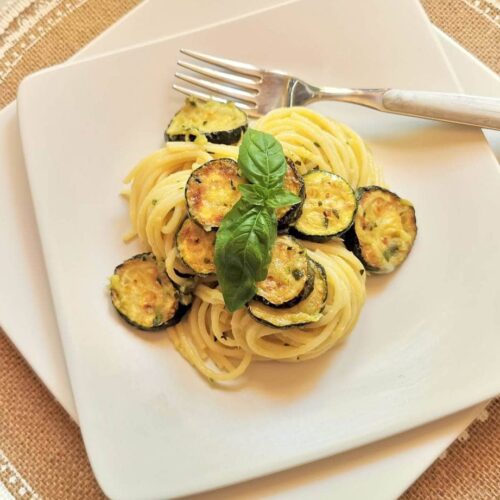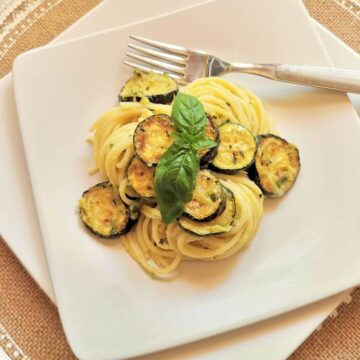 Spaghetti with Fried Zucchini (spaghetti alla Nerano)
Spaghetti alla Nerano made famous by Stanley Tucci in his Searching for Italy series is an excellent example of a simple but exquisite vegetable pasta recipe from Southern Italy. It includes ingredients typical of Neapolitan cuisine and is very easy to make!
Ingredients
400

g

spaghetti

(14oz)

700

g

zucchini

(24oz)

olive oil

extra virgin

2

cloves

garlic

peeled

100

g

grated Provolone cheese

(3.5oz) preferably Provolone del Monaco or caciocavallo (see notes)

1

handful

fresh basil leaves.

washed and torn into pieces

salt

for pasta and to taste

pepper

to taste
Instructions
Wash and cut the zucchini into thin slices, then fry them in extra virgin olive oil until browned.

Once fried, put the slices on paper towels to remove the excess oil.

Meanwhile boil the pasta in plenty of lightly salted water until al dente and drain, keeping aside a cup of the cooking water.

Heat some more olive oil in a frying pan with the 2 garlic cloves and cook taking care not to burn the garlic.

Immerse the zucchini slices in boiling water for 4 or 5 seconds, then cream 1/3 of them either by mashing through a sieve or briefly liquidizing in a food blender with some of the pasta cooking water.

Remove the garlic and add the cream of zucchini and the zucchini slices to the pan and then stir in the cooked spaghetti. If the dish appears too dry add some of the saved pasta cooking water. Continue to stir over a low heat for a minute.

Remove the pan from the heat, stir in the grated provolone until it starts to melt and become creamy. Season with a sprinkling of pepper and salt as required, Serve decorated with the basil leaves cut into pieces and some extra grated provolone to taste.
Notes
Spaghetti is the traditional pasta for this recipe but other long pasta such as linguine work well too.
Although the original recipe I followed calls for Provolone del Monaco, this cheese isn't available everywhere, However there are other spicy provolone cheeses produced in Northern Italy and even in America which can be used instead. You can also use caciocavallo or parmigiano. Vegetarians should use a vegetarian parmesan or provolone.
Like many Italian pasta recipes there are slightly different versions of alla Nerano. Not all include creaming part of the fried zucchini and some add butter to the dish before serving.
Pin for Later
If you are interested in learning how to make homemade pasta and different types of gnocchi, check out my shop page for some great video online courses from my friends in Rome! Nothing beats learning to make pasta from Italians! Plus while you're there why not order a copy of one of my pasta recipe cookbooks or checkout some traditional pasta making tools? All great prezzies for pasta lovers!