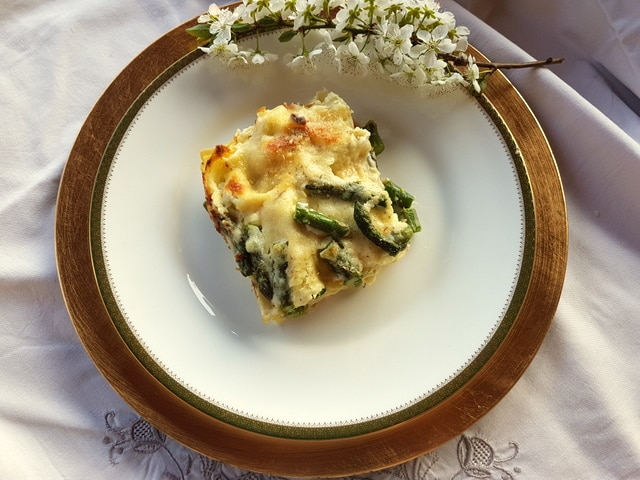 Poached salmon and asparagus lasagne al forno
A divinely delicious baked pasta with fresh seasonal asparagus and fresh salmon
Cuisine:
Italian, Northern Italy
Ingredients
300

g

fresh salmon fillets

skinless

200

g

lasagne pasta sheets

fresh or dried ( I used fresh from Giovanni Rana)

30

g

grated Parmesan

1

kg

asparagus
For salmon poaching
1

white onion

peeled and sliced

1

stalk

celery

washed and cut into pieces

1

sprig

dill

1

lemon

(juiced)

1

bay leaf

salt
For béchamel
100

g

all purpose flour

100

g

butter

1-2

tsp

lemon zest

130

g

stracchino cheese

or burrata or grated parmesan (60 g)

1

Lt

fresh milk

1

tsp

dill

chopped

salt
Instructions
Poach the salmon
Place the skinless salmon fillets into a poaching tray with some dill, the bay leaf, the peeled and sliced onion and the celery stalk washed and cut into pieces.

Add enough cold water to cover the fish and add the juice of one lemon. Poach covered from cold on a moderate heat until the salmon is cooked. (about 20-25 minutes)

When the salmon is cooked take it out of the poaching liquid and put it on a plate to cool.
Cook the asparagus
Wash the asparagus and cut off the hard part at the bottom of the stalk ( You can do this by bending the stalks and they will break at the right place)

Boil or steam the asparagus until they are still a little firm. I boiled them in bundles for 5 minutes. Then plunge them in cold water to prevent them continuing to cook.

Cut the asparagus stalks into small pieces keeping the spears intact. Set aside.
Make the béchamel
In a saucepan, let the butter melt over a moderate flame. Add the flour a little at a time, stir carefully and make sure any lumps of flour dissolve. Then pour in the milk a little at a time, continuing to stir until it starts to thicken.

Add salt, some chopped dill, lemon zest and the Parmesan cheese, if you are using it. Continuing stirring until the cheese melts and the béchamel is thick enough. If it gets too thick you can add more milk.

If you are using stracchino or burrata add once the béchamel is ready and cream with a hand held blender.
Assemble your poached salmon and asparagus lasagne
Put a small ladlful of béchamel in the bottom of a rectangular or square oven dish and spread it evenly. Place one layer of lasagne sheets on top. Then make a layer of asparagus stalks and salmon. Spread some more béchamel on top of the salmon and asparagus.

Add another layer of pasta sheets, then some salmon and asparagus stalks and more béchamel. Repeat if you have enough salmon and asparagus stalks. Finish with a layer of pasta. Cover this with the asparagus spears and finally the last of the béchamel and a light sprinkling of parmesan and a few small pieces of butter.

Bake in a preheated oven at 180° for about 20-25 minutes (until the top starts to brown) Be careful not to let the asparagus spears burn.

Let the poached salmon and asparagus lasagne rest for 5-10 minutes before serving.
Recipe Notes
I used fresh lasagne sheets so I didn't par-boil them. If you are using dried lasagne you will need to cook themin boiling salted water first. Be careful not to overcook them (half cooked if enough) as they will continue cooking in the oven and can get too soft and mushy.
For a very quick version of this recipe you can use tinned salmon and ready made béchamel, but I would recommend using homemade béchamel and poaching the salmon yourself for best results.
Pin for Later