Save this recipe for later?
If you want to save this pesto pasta Liguria recipe for later, you can print it, bookmark this page or save it to Pinterest.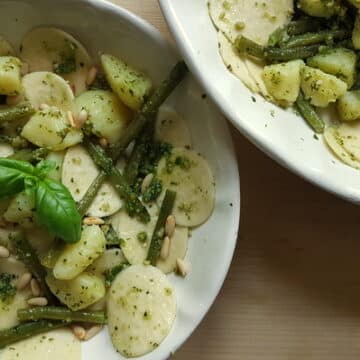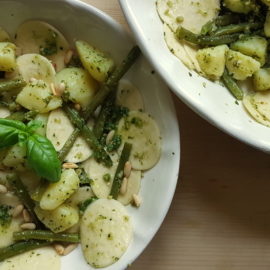 Pesto pasta Liguria with potatoes and green beans
A tasty traditional way to eat pesto pasta from Liguria, the home of basil pesto
Ingredients
320

g

corzetti pasta

or Trofie or trenette

120

g

fresh green beans

120

g

potatoes

You can use red potatoes. I like new potatoes.
For the pesto
4

handfuls

fresh basil leaves (preferably young leaves)

in Liguria they use Basilico Genovese D.O.P.

30

g

pine nuts

I like to toast mine.

50

g

Parmesan

In Liguria they use aged Parmesan

30

g

Pecorino from Sardinia

1-2

garlic cloves

peeled. In Liguria they use garlic from Vessalico

coarse sea salt

for pasta and to taste

extra virgin olive oil

as required
Instructions
Make the pesto
If it's possible, choose medium sized young basil leaves (brighter green). Rinse the leaves under water and dry them with paper towels. Dry fry the pine nuts for 2-3 minutes if you prefer to have them toasted.
Using a pestle and mortar
Peel the garlic cloves and put them into a mortar with pine nuts.

Grind until you have a paste Then add some basil leaves, and a little coarse salt, and 3 tbsp of olive oil.

Keep working with the pestle, while continuing to add more basil leaves and olive oil until the pesto is smooth and consistent. Finally, transfer to a bowl and add the cheeses and stir well.
Using a blender or mini food processor
You can either put all the ingredients in the blender and pulse a few seconds at a time until you have the right consistency. Don't keep pulsing for too long at once as the blender will heat up and this can spoil the basil.

Alternatively, crush the pine nuts in a pestle and mortar or with a hammer. Blend the olive, oil, basil, salt and garlic until you have the right consistency. Add the cheese and crushed pine nuts after. Mix well with a fork or wooden spoon.
Cooking the other ingredients
Wash the vegetables, then top and tail the green beans and cut them into 2 or 3 pieces. Peel the potatoes and cut into cubes.

Fill a large pot with water and bring to boil, then add the sea salt.

Either boil the vegetables along with pasta until all are "al dente", or cook separately.

You can cook the beans and potatoes together and then remove them to a bowl with a slotted spoon. (I did this)

Finally, cook the pasta al dente in the vegetable water according to the instructions on the packet. Save a cup of the cooking water and drain the pasta.

Mix the pesto with the potatoes and green beans in a frying pan over a low heat for a minute or in a bowl. Then add the drained pasta and a little pasta cooking water. Mix everything together carefully and serve with extra grated cheese and some more toasted pine nuts if required.
Notes
This recipe is traditionally served with corzetti, trofie or trenette (linguine). But, you can use other types of long or short pasta such as fettuccine or penne.
Pin for Later