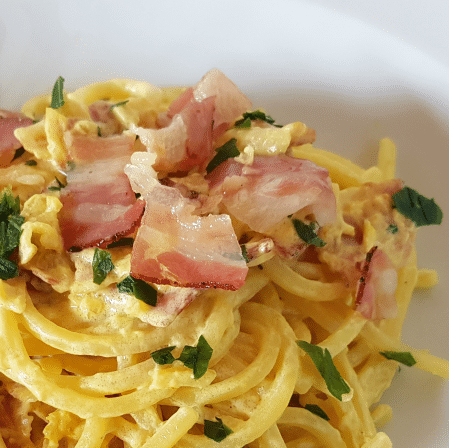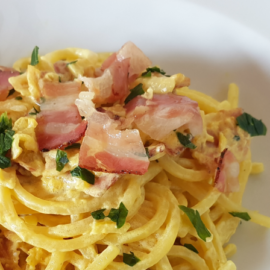 Pasta with saffron and pancetta
An unusual and delicious recipe from Abruzzo where saffron has been cultivated since the 14th century.
Ingredients
350

g

spaghetti alla chitarra

or other pasta

200

ml

cooking cream

1/2

tsp

saffron

powder or ground threads

1

onion

150

g

pancetta

20

g

butter

50

g

grated parmesan or grana

1

sprig

parsley

1

tbsp

olive oil

salt

for pasta and to taste

ground black pepper

to taste
Instructions
2 hours before cooking crush or grind the saffron threads (if you are using threads) and steep in 2 -3 tablespoons of hot water.

Put a pot of water on to boil for the pasta. Add salt once it is boiling.

In a bowl mix the cream with the saffron in water or saffron powder and a pinch of salt. Mix it until you get a homogeneous colour.

Finely chop the parsley and the onion and cut the pancetta into small pieces.

Heat the butter with the olive oil in a large frying pan or skillet.

Add the onion and let it soften over a low heat.

Add the pancetta and turn up the heat a bit to allow it to brown slightly.

Add the cream and saffron to the pancetta and onions.

Mix well and let it cook for a minute and then add some parsley, ground pepper to taste and some of the grated cheese. Cook for a couple of minutes more until the cheese has melted.

Cook the pasta al dente according to the instructions on the packet. Save a cup of the cooking water and then strain the pasta.

If the sauce is too dry add some of the saved pasta cooking water and add the pasta to the sauce in the pan.

Mix well and serve with a sprinkling of parsley and the rest of the grated cheese if required.
Notes
It is important not to use more saffron than the recipe states as the taste may become bitter.
This recipe can be made with cooked ham instead of pancetta for a milder taste.
The cream can also be replaced by 1/4 glass of wine in which the saffron has been steeped. More pasta cooking water will then be needed to make the sauce more liquidy.
You can use any short, such as penne, or thin long pasta, such as normal spaghetti, for this recipe.