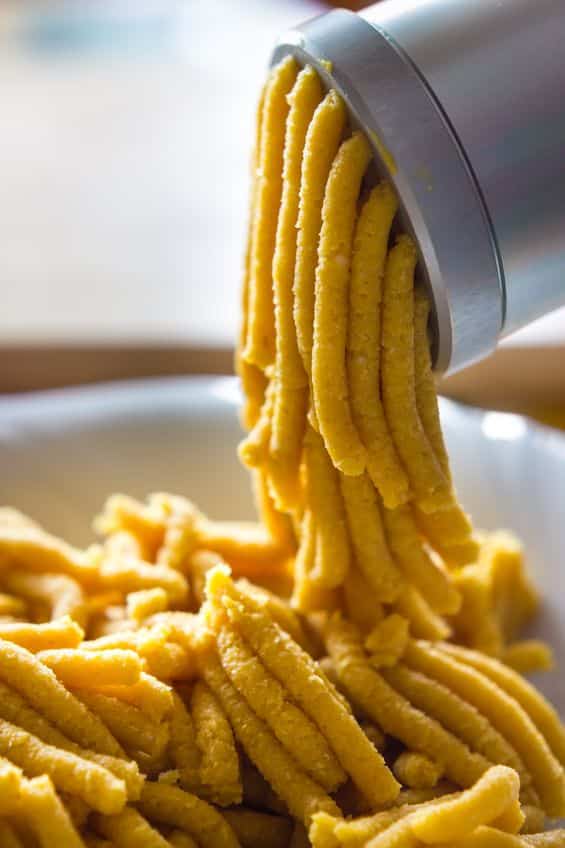 Passatelli
A delicious unusual type of pasta from Emilia-Romagna, typically cooked and served in broth.
Course:
Main Course, Soup
Cuisine:
Emilia-Romagna, Italian, Northern Italy
Keyword:
fresh pasta, passatelli, pasta in broth
Ingredients
120

g

white breadcrumbs.

(4.2oz)

120

g

Parmigiano Reggiano

(4.2 oz) grated

3

medium eggs

1

pinch

salt

1/2

tsp

grated nutmeg or lemon rind

Prepared broth or stock
Instructions
Mix the breadcrumbs and parmesan cheese together in a bowl.

Add a pinch of salt

Add the grated nutmeg or lemon rind (as desired).

Beat the eggs and add them to the bread and cheese mixture.

Mix the ingredients together (preferrably with your hands) until the dough becomes quite elastic and compact. If it is too wet add more breadcrumbs. If too dry you can add some of the stock or broth you plan to cook the passatelli in.

Roll the dough into a large ball, wrap it in clingfilm and leave it to 'rest' at room temperature for at least 2 hours.

Bring your broth or stock to the boil

When you are ready to cook the passatelli, remove the clingfilm and place the dough on a floured surface.

Take large pieces of the dough and press through the passatelli iron. As the passatelli come out of the press you will have to use a knife to remove them.

You can drop them straight into the boiling broth/stock or onto a previously floured surface and then add them to the broth/stock after they are all made.

Allow them to cook until they all rise to the surface (approx 5 minutes)

If you are serving them in broth, serve immediately.
Recipe Notes
If you are going to add passatelli to other ingredients, remove them from the stock with a slotted spoon and add to the pre-prepared sauce or ingredients and then continue according to the recipe you are following.
Want to know more about my life in Italy? Go to the homepage and subscribe to my newsletter. New subscribers get a free recipe e-book too! https://www.the-pasta-project.com
Pin for later.