Save this recipe for later?
If you want to save this recipe for later, you can print it, bookmark this page or save it to Pinterest.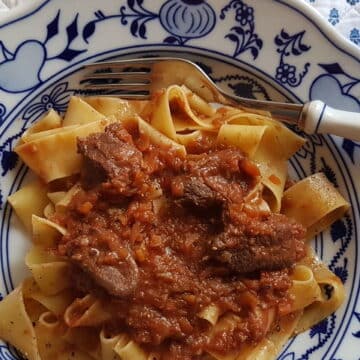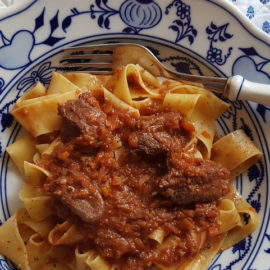 Pappardelle with venison ragu
This rich slow-cooked venison ragu with pasta recipe from North-Eastern Italy is perfect for special occasions and cold winter nights.
Ingredients
400

g

pappardelle or tagliatelle pasta

500

g

venison

cut into small chunks (shoulder is good)

1

onion

peeled and finely chopped

2

carrots

cleaned and finely chopped

1-2

celery stalk

cleaned and finely chopped

1

garlic clove

peeled

200

ml

dry white wine

200

ml

red wine

200

ml

water or game stock

2

cloves

1

cinnamon stick

2

bay leaves

8

juniper berries

black pepper

to taste

salt

for pasta and to taste

300

g

tomato passata or fresh ripe tomatoes

(San Marzano) peeled and seeds removed

3-4

tbsp

extra virgin olive oil
Instructions
Cut the venison into cubes and marinate in white wine for 2-3 hours.

Chop the carrots, celery and onion finely.

In a deep frying pan or skillet, fry the peeled garlic clove in heated extra virgin olive oil until it starts to brown slightly. Add the vegetables.

Once the vegetables start to soften, remove the venison from the white wine and add it to the pan. Cook for a few minutes, turning the meat to make so it browns on all sides.

Turn up the heat and add the red wine.

Allow the alcohol to evaporate slightly then add the juniper berries, the piece of cinnamon, the cloves, some ground black pepper and the bay leaves. You can also put these herbs and spices into a herb sachet and place it in the pan to remove when the sauce is ready. (I didn't use a sachet or try to remove the spices)

Add the tomato passata or peeled tomatoes ( I used fresh tomatoes, blanched, peeled, seeds removed and diced)

Stir and then cook covered over a very low heat for about 3 hours taking care that it does not dry out too much. If necessary, add water or game stock or more red wine and stir occasionally.

While cooking, add salt as desired.

Put a pot of water onto boil for the pasta. Add salt when it starts to boil and bring to the boil again.

Cook the pasta al dente according to the instructions on the packet. When the pasta is cooked, save a cup of the cooking water and drain.

If the ragu seems dry, add some of the saved pasta cooking water and reheat it if you cooked it earlier.

Return the pasta to the pan you cooked it in and add some of the venison ragu. Mix together well and plate with more ragu on top.

Serve immediately.
Notes
The preparation time does not include the time needed to marinate the venison.
You can use different kinds of pasta for this recipe. Traditionally, it is served with ribbons such as pappardelle, tagliatelle or fettucine but it can also be eaten with short pasta such as penne or farfalle.