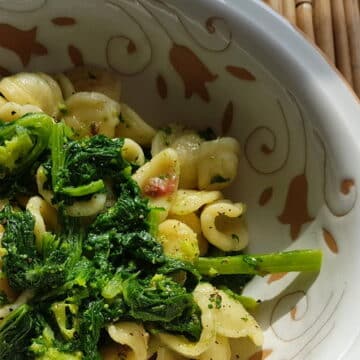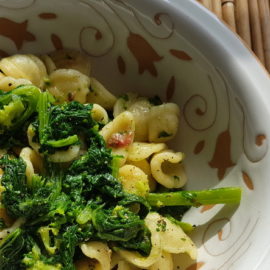 Orecchiette with broccoli rabe
A delicious, healthy traditional pasta recipe from Puglia in Southern Italy.
Ingredients
400

g

orecchiette pasta

(14oz)

400

g

broccoli rabe

(14oz) rapini

2

garlic cloves

peeled and chopped

5

anchovy fillets

salted or preserved in oil

4

tbsp

extra virgin olive oil

1/2

fresh peperoncino

optional

50

g

breadcrumbs

(1.5-2oz) optional

50

g

pecorino or hard sheep ricotta

(1.5-2oz) optional
Instructions
Clean the broccoli rabe by removing the hardest and thickest stems and the larger leaves (you can keep the flowers). Break the greens into pieces and wash well.

Boil the broccoli rabe and the orecchiette together in salted water until the pasta is al dente then drain. (if using fresh orecchiette, let the broccoli rabe cook for 5 minutes first then add the pasta)

In a frying pan or skillet, heat the olive oil and add the peeled and chopped garlic. Let the garlic soften a little and then add the peperoncino (if you are using it) and the anchovies and stir until the anchovies melt. Keep the heat low so nothing burns.

Brown the breadcrumbs in a separate frying pan with a little olive oil (if you are using them)

Add the drained orecchiette and broccoli rabe to the olive oil, garlic and peperoncino.

Mix everything together well.

Serve immediately with a sprinkling of breadcrumbs or grated pecorino or hard sheep's ricotta.
Notes
This recipe can be made with other types of pasta such as cavatelli or penne, but somehow broccoli rabe and orecchiette belong together.
If you like this recipe, please scroll down and leave a comment and rate the recipe. Your feedback is important to me!