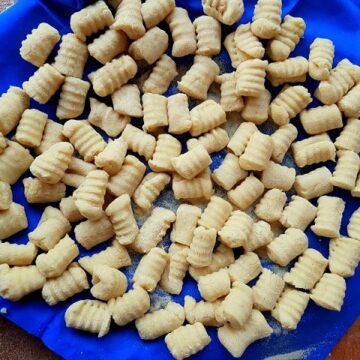 Homemade Italian Potato Gnocchi
Homemade gnocchi are so much better than ready-made. Once you have succeeded in making them, you'll never go back to the store bought kind.
Ingredients
1

kg

Russet potatoes

all about the same size

300

g

'00' or all purpose flour

1

tsp

salt

1

egg

lightly beaten
Instructions
In a large pot with just enough water to cover them, boil potatoes with their skins on. The skin helps prevent the potato from absorbing access water. (Dry potatoes are good. Watery potatoes are bad.) Boil for about 20-30 minutes or until fork tender. Over-boiling will cause potatoes to become mushy and too wet.

Strain and peel the boiled potatoes, removing any brown spots that might be below the skin. Peel them quickly, as the cooler they get, the less fluffy they become. I held them in a tea towel to peel!

Spread most of the flour onto your work surface and using a potato ricer (in Italian passavedura) press the cooked potatoes into a mound onto the centre of the flour. If you don't have a ricer you can mash the potatoes until smooth. Mix the flour and potato together.

Allow the potatoes to cool a little if they are still hot and then make a hollow in the centre of your potatoes and flour, add a pinch of salt and then pour in the lightly beaten egg. (If the potatoes are still too hot the egg will start to cook)

Start to blend and knead everything together with your hands, adding more flour as you go if you need to. Work carefully and quickly, as the more you handle the dough, the harder it will become. You need the same lightness you would use for pastry. Continue until the dough loses most of its stickiness and becomes more solid.

Cut a quarter of the dough off and cover the rest with a tea towel to prevent it drying out too quickly. Reflour your work surface. I used semolina flour (semola in Italian).

Divide the quarter into two and roll each piece out into a rope or snake about as thick as your thumb and cut it into pieces about 2cm wide. Repeat with the rest of the dough.

Gently roll each gnocco against the floured front tines of a fork or down an gnocchi board to make ridges. Then arrange in a single layer on prepared floured baking sheets. ( I used semolina flour for this).

Allow the gnocchi to rest for 20-30 minutes before cooking.

Potato gnocchi need to be cooked almost immediately, although you can keep them covered in the fridge or at room temperature for a couple of hours. However you have to keep them separated or they will stick together!

When you are ready to cook your gnocchi, bring a large pot of salted water to a boil. In batches, add a few handfuls of gnocchi and cook until most have floated to top, about 2 minutes. With a wire-mesh spider or a slotted spoon, transfer the gnocchi immediately to whatever sauce you have prepared.
Recipe Notes
You can freeze uncooked gnocchi (which is what I do) Put them into the freezer on a tray, so they aren't touching each other. When they have frozen (about 30 minutes) transfer them to a freezer bag or small container. Cook them from frozen. Frozen gnocchi taste as good as freshly made.
[amazon_link asins='B0047T6VC6,B00BUA2RTQ,B00P1J718E,1607746077,1544037090′ template='ProductCarousel' store='thepastaproje-21′ marketplace='UK' link_id='24c9a1c7-7d0d-11e7-925c-0b7b0c9a8bca']