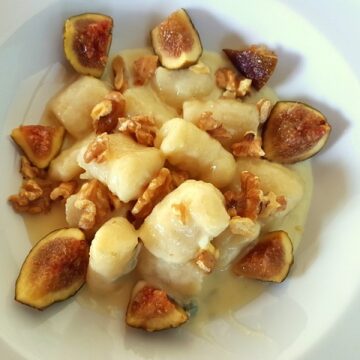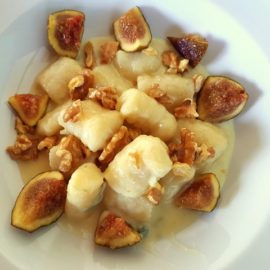 Gnocchi with Gorgonzola 5 ways
Gnocchi with gorgonzola is a food match made in heaven and for more deliciousness add walnuts or figs or speck or a combination of all these ingredients.
Ingredients
800

g

Potato Gnocchi

Homemade is best see the recipe

200

g

Gorgonzola Dolce

or Piccante if you prefer

1/2

glass

milk

50

g

Parmesan

grated

1

pinch

nutmeg

(optional)

ground black pepper

(optional)

salt

for cooking gnocchi
If using walnuts
40

g

walnuts

shelled and broken in small pieces
If using speck
100

g

speck

cut into small pieces
If using figs
4-6

fresh figs

cut into quarters or smaller
Instructions
Start boiling the water for the gnocchi. Add salt once it starts to boil.

Put the milk in a deep frying pan or skillet and bring it to a boil.

Turn the heat down and add a piece of gorgonzola and stir till it melts, (if you want a denser sauce you can add a little butter). Continue to add pieces of Gorgonzola and if the sauce is too thick a bit more milk a little at a time. It is important not to overcook the gorgonzola. For a delicate taste it must dissolve at a medium temperature.

Turn off the heat and add some grated parmesan and pepper, if desired. Some people also add a little nutmeg.

Cook the gnocchi and as they start to rise to the surface of the boiling water scope them out with a slotted spoon and add them to the gorgonzola sauce. If the sauce is too thick you can also add some gnocchi cooking water to make it more liquidy.

Mix the sauce and the gnocchi together and serve immediately with grated parmesan if desired.
If adding walnuts
Toast the walnut pieces in a dry frying pan until they start to brown a little. Keep stirring them so they don't burn. Sprinkle the walnuts over the gnocchi and Gorgonzola just before serving.
If adding figs.
Either just add chopped figs to the final dish ( which is what I did) or add the chopped figs to the Gorgonzola sauce before adding the gnocchi.
If adding speck.
Fry the pieces of speck in a little olive oil until the speck starts to brown. Sprinkle the speck over the gnocchi and Gorgonzola just before serving.
Notes
You can add both speck and walnuts together to the gnocchi with Gorgonzola. Some people fry the speck and walnuts together then add the milk and gorgonzola. I prefer to cook the extra ingredients separately.
This recipe can also be made with pasta. Italians prefer to use short pasta such as penne or rigatoni, rather than long pasta.