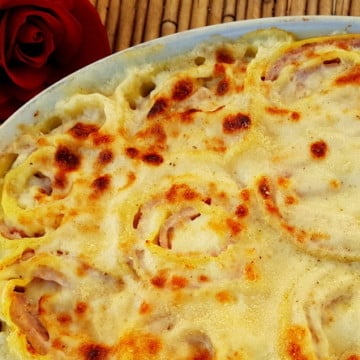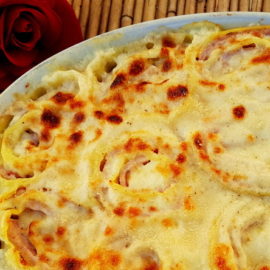 Baked Pasta Roses
A unique, tasty and attractive way to serve baked pasta that family and friends are sure to love!
Ingredients
Ingredients for roses
250

g

stracchino cheese

(9-10oz)

100

g

thin cooked ham slices or thinly sliced Parma ham

(3.5oz)

150

g

fresh thin lasagne sheets

(6oz) depends on how thick you cut the roses. I used 5 lasagne sheets.
Ingredients for bechamel
60

g

all-purpose flour

(4oz)

70

g

parmesan cheese

(5oz) grated

600

ml

fresh milk

(20floz)

nutmeg

salt

to taste

black pepper

to taste

60

g

butter

(4oz)
Instructions
First make the bechamel.

Melt the butter in a non-stick saucepan over a low heat

add the flour and stir until you have a smooth paste

Add the milk a little at a time and continue to stir until the sauce starts to thicken

Add salt, pepper and nutmeg to taste

When the bechamel has reached a good thickness add 50g of parmesan and continue to stir until the cheese has melted into the bechamel.

Remove from the heat and allow to cool covered with cling film. If your bechamel seems lumpy whisk with a hand held food blender!

Put a pasta sheet onto a floured board.

Cover with slices of ham.

Cover the ham with stracchino cheese

Check the bechamel has cooled and cover one end of the pasta sheet with a spoonful of bechamel.

Roll the sheet into a swiss roll shape.

Repeat this process with all the pasta sheets and the rest of the ham and cheese.

Coat the bottom of an oven dish with bechamel.

Cut the pasta rolls into 3 pieces ( each about 4-5 cm wide) and place side by side in the oven dish.

Pour the remaining bechamel over the pasta roses and sprinkle with the remaining parmesan.

Cover with aluminium foil and cook at 180° in a preheated oven for 20-25 minutes.

Remove the aluminium foil and cook for another 10 minutes until the top becomes golden and crispy.

Serve with extra grated parmesan if desired

Buon Appetito!
Notes
You can also use dry lasagna sheets for this recipe but they will need to be partially cooked and cooled before making the roses.
This recipe is a version of a traditional recipe from Emilia-Romagna, 'Nidi di Rodine' (swallows' nests) in which fontina or mozzarella cheese, tomato sauce and sometimes mushrooms are used.So you can use these cheeses as well or edam, gouda or ricotta or other soft cheeses and a vegetarian version could include spinach instead of ham.
You can also use homemade pasta sheets.
Want to know more about my life in Italy? Go to the homepage and subscribe to my newsletter. New subscribers get a free recipe e-book too! https://www.the-pasta-project.com