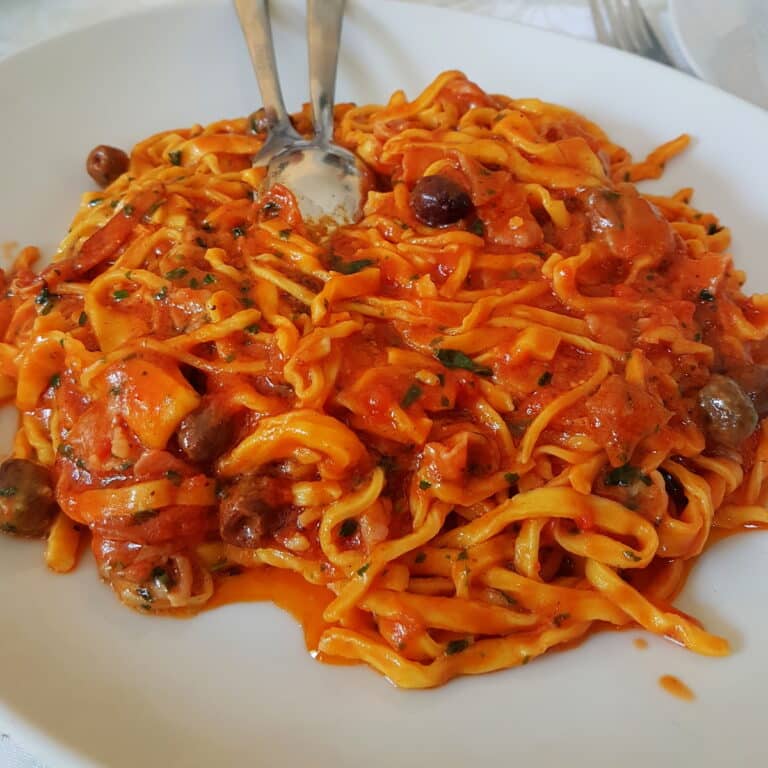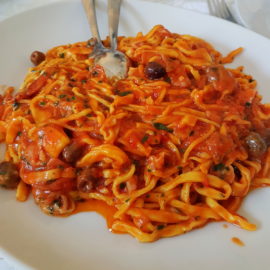 Pasta alla Mediterranea
A wonderful sauce of Mediterranean flavours which can be served with different types of pasta or even with fish.
Ingredients
400

g

pasta of your choice

We had tagliolini but any thin ribbon pasta or short pasta such as fusilli or penne can be used.

40

g

anchovy fillets in oil

100

g

tomato passata

100

g

pitted black and green taggiasca olives

you can use other types of olives too

20

g

salted capers.

1

tsp

peperoncino flakes

optional

1

garlic clove

peeled

4

tbsp

extra virgin olive oil

salt

for pasta and to taste

1

handful

fresh parsley

chopped

parmesan or grana

grated (optional)
Instructions
Peel the garlic

Chop the parsley

Cut some of the olives into rings but leave a few whole.

Drain and cut the anchovies into small pieces.

Rinse the capers in water to remove the salt if you are using salted capers.

Heat 4 tablespoons of extra virgin olive oil in a frying pan.

Fry the whole garlic clove until it starts to brown slightly

Add the chopped anchovies and stir to allow them to melt.

Add the peperoncino (if you are using it) and cook for just a few seconds (you don't want it to burn)

Add the tomato passata/ polpa and the black and green olives.

Add salt to taste and a pinch of pepper, and cook over a slow heat for about 20 minutes, stirring occasionally.

Meanwhile, bring plenty of water to boil in a pot. Add salt when it starts to boil and bring to the boil again.

Cook the pasta slightly less than the instructions on the packet.

When the sauce is almost cooked, add the well-rinsed capers and parsley.

Drain the pasta and add it to the pan with the sauce. Mix everything together well and cook for a further minute or two

Serve immediately.

For those who like it, the pasta can be eaten with grated parmesan or grana.
Notes
As mentioned in this post, this sauce can also be served with grilled fish or used to cook white fish fillets in. Some people flour the fillets and brown them before adding the sauce and allowing the fish to finish cooking in it.